Today was a pretty sad day because Gavin's further losing his grip on reality.  It seems that Schizoaffective Disorder is once again taking over his life.
Here's where Gavin spent his day today.  According to Gavin, this is what he happened. 
At some point this morning, he got a call from Sonic, the most prominent of his visibly challenged friends.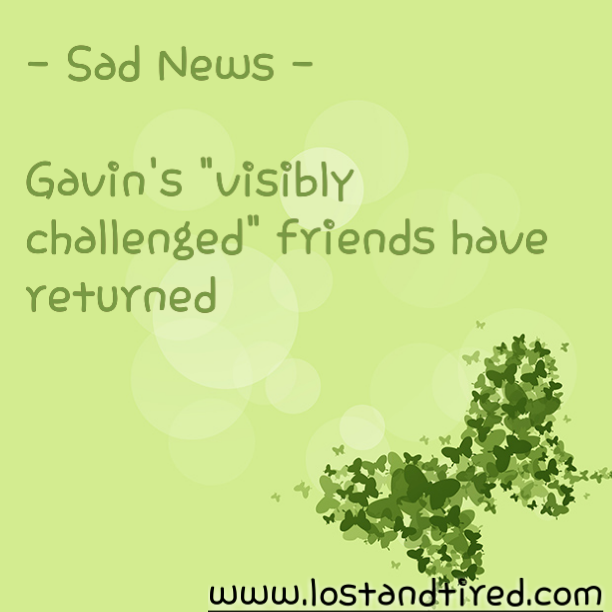 Sonic the Hedgehog and his wife Amy had a problem and they needed Gavin's help to solve it. According to Gavin, Sonic and Amy are married and have a son named Jack. Jack is 11 years old.
About 3 months ago, Sonic and Amy welcomed a new addition to their family. Her name is Samy (rhymes with Amy).
Samy is now 7 years old and had a soccer game today. It was a tournament game…..a big one. .
In case you missed it, Samy was born three months ago but is now 7 years old. When I questioned him on how that happened, he started to tell me that while he was on a mission with Sonic, he was severely injured and had to frozen in order to heal. His explanation made no sense to me but that's what he said.
The reason Sonic had called Gavin today was because Samy had a soccer game. Sonic and Amy both wanted to be there to watch it, but there was a problem.
Apparently, Sonic needed a few things from the store and it had to be done right away. If Sonic went to the store, he would miss Samy's game. Whatever he needed to get was really, really important but so was the soccer game.
Gavin realized that he could save the day by going to the store for Sonic, so that Sonic and Amy could both go to the game and cheer on Samy.
That was it….. He wouldn't tell me what he had to get at the store or why it was so important.
Are you confused yet? Join the club. It's so heartbreaking to watch him decompensate like this. If there has to be a silver lining here, it would be that he's happy. When he's with his visibly challenged friends, he's happy and as terrible as this situation is, at least there's that.
He did say that he would fill me in the rest of his adventures later on today. I'll keep you posted. In the mean time, please keep him in your thoughts and prayers.
This site is managed almost exclusively from my Samsung Galaxy Note 3. Please forgive any typos as auto-correct HATES me. 😉
Update: If you like this post, check out these as well. Click —–> Here <—– for my Top Posts.
Follow @Lost_and_Tired

"Like" me on Facebook

Visit the My Autism Help Forums
To reach me via email, please Contact Me