It's April.  The one time of year when we have the most potential to make an impact on the world and help shine the light on Autism.  This is really the only time that we have the eye of the media and we should be taking advantage of this. 
The reality is, it doesn't matter what you call it.  You can raise Autism Awareness or Autism Acceptance and Understanding. It all amounts to the same thing in the end. 
However, I'm deeply disturbed by what I've been seeing in my Facebook timeliness so far this month.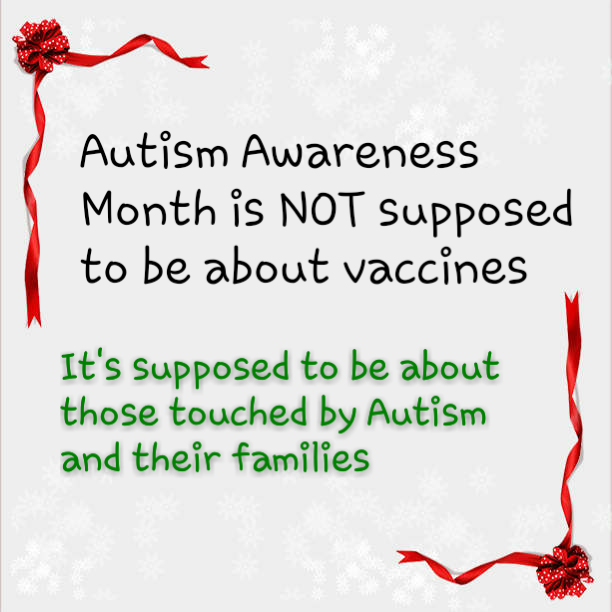 We have this great opportunity to work together and make the lives of those living with Autism and their families, better. We can help educate the world by sharing our stories and experiences. We can help the public better understand what it's like to be an Autism parent. 
This is a great opportunity and I fear it's going to waste. 
So much of what I'm seeing on Facebook right now has to do with vaccines and how we are being lied to by the government, medical community and let's not forget, big pharm.
Enough already. 
Why would we waste our time focusing on vaccines, when there are so many more important things, that are based in fact.  Vaccines causing Autism has never been proven.  While injuries do occur, they are the very tragic exception to the rule. 
How does spreading fear and misinformation lead to raising awareness for people with Autism or their families?
Can't we just have one month where we focus what really matters? Can't we have one month where we stop trying to convince the world that vaccines are responsible for Autism and actually focus on the present?
There's no way for us to move forward if we are stuck in the same old, pointless, never going to go anywhere debate about vaccines.  Everyone is entitled to his or her own opinion and I respect that. If you believe that vaccines cause Autism, more power to you. While I clearly don't share your beliefs, I seek to coexist and work together.
All I ask, is you please remember that Autism Awareness Month is supposed to be about those with Autism. It's about helping people to better understand those with Autism and it's about supporting the families raising these beautiful but challenging people……
Please put the vaccine debate on hold for right now. Let's unite and help make a brighter future for all those touched by Autism and their families..
This site is managed almost exclusively from my Samsung Galaxy Note 3. Please forgive any typos as auto-correct HATES me. 😉
Update: If you like this post, check out these as well. Click —–> Here <—– for my Top Posts.
Visit the My Autism Help Forums
To reach me via email, please Contact Me