I met with the Gavin's  principal this afternoon in order to speak with him about this whole Gavin cheating on his homework thing last week. As I've explained a few times now, I'm still pretty fired up over how this was or rather wasn't handled by his teachers. 
Because he was gone last week, this conversation was the first time he had heard about it. 
After explaining what Gavin knowingly did,  I told him what Lizze and I wanted to see happen. I also explained that we weren't getting anywhere after talking to his teachers.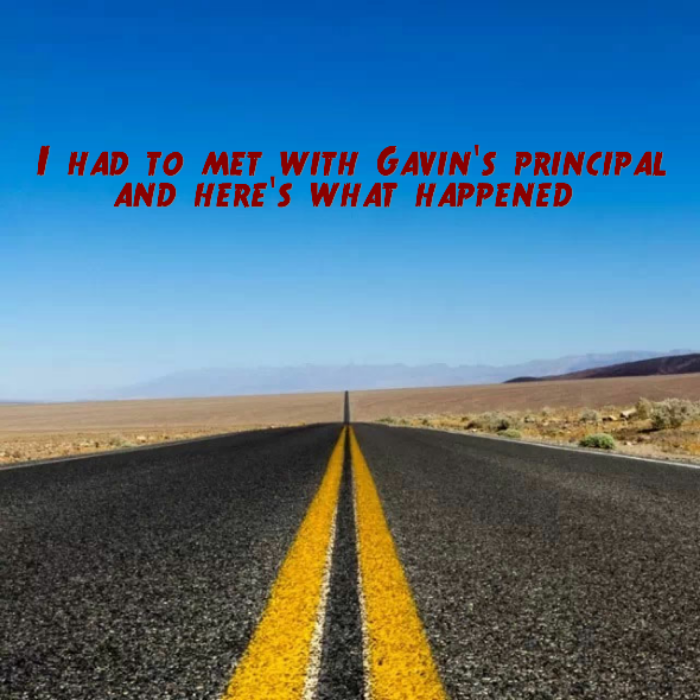 I told him that I completely understand where the teachers are coming from and when it truly comes down to it, I'm more frustrated than angry. I'm mean, the reality is that Gavin is the one to blame here and the teachers are just trying to see the best in him.
The problem is that they aren't taking Lizze and I seriously.  They aren't listening to us.
While I understand why they are being difficult, they must remember that they are the teachers and we are his parents. They need to work with us to ensure his best interests, as well as the safety and security of everyone around him.
The principal totally backed our play and said that Gavin needs to learn the hard way that cheating is not going to get him anywhere.
This is what we wanted to happen.
We wanted him to redo the entire paper because he needed to do the work correctly. Now this is where the teachers apparently disagreed with us. We wanted the paper he cheated on to be the one that was graded. That means that an automatic zero because he plagiarized 99% of the paper.
The principal is awesome and I can't say enough about him. He met with the teachers this morning to explain to them how they are going to handle this situation.
I should be hearing about what happened this afternoon when I go to pick up the boys…….
Being able to walk into the office and express my concerns as a parent and have those feelings taken seriously, is one of the things I truly love about this school.
I'll let you all know ow what happens….
This site is managed almost exclusively from my Samsung Galaxy Note 3. Please forgive any typos as auto-correct HATES me. 😉
Update: If you like this post, check out these as well. Click —–> Here <—– for my Top Posts.
Visit the My Autism Help Forums
To reach me via email, please Contact Me