We had another incident today at school. This had to do with Gavin and kid he had been bullying for the second half of the school year.
Once again, Gavin is claiming to be the victim.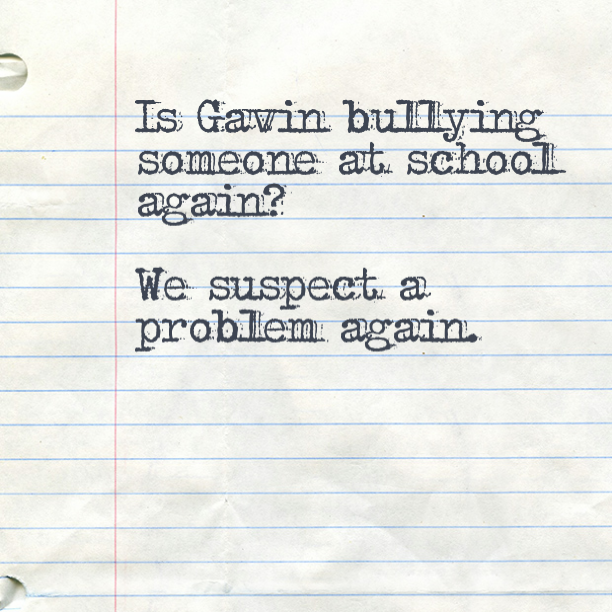 However, what he's saying really doesn't make much sense or rather any sense for that matter.
I'm going to touch base with the school in the morning and find out what happened. That being said, here's Gavin's version and how I found out.
On the way home from picking up the boys today, I asked each one of them how their day was. As usual, Elliott and Emmett had awesome days. When I asked Gavin how his day was, he said great.
Gavin said he had a great day but I'm been around this block too many times to simply accept that answer.
I always follow up with did anything happen today? This gives him very little wiggle room and I can usually determine whether or not he's being honest or if he's hiding something.
After I asked him if anything happened, he got real quiet and said okay Dad, here's the thing.
I immediately shut him down because I had no idea where this was going to go and I didn't want to stress the other boys out if Gavin started to freak out in the car.
Once home, Gavin told me what happened but he doesn't seem to be completely honest because this really doesn't make sense and his story changed twice.
Gavin claims that he was just standing in the hallway when this kid (the one that Gavin had been bullying) came up to him and said you're gonna break the wall.
In one version of the story, Gavin told us that this kid kept repeating this to him and that after awhile, he finally snapped and screamed I'm not hurting the God dang thing.
In another version of the story, Gavin said that he snapped after this kid said you're gonna break the wall. However, in this version, the kid only said it once and Gavin snapped.
I asked him what had provoked this and he said it just happened out of nowhere.
I'm a bit confused because this is the kid that was so submissive that he never once turned Gavin in for bullying him. He never stood his ground and Gavin took full advantage of that.
Now, out of nowhere, this kid is trying to start something with Gavin? This doesn't smell right to me. I have a really hard time believing that Gavin is just some innocent party and this kid has had a compete change in personality and is now picking on him.
Gavin later admitted to having leaned against the wall, after denying that he ever touched it….
This just doesn't feel right to me and I want to find out if anything happened that we need to be aware of. I also want the school to know that there is something brewing between Gavin and this kid.
If you remember, all it took was this kid not moving out of Gavin's way, one time and it set into motion a chain of events that had Gavin seeking revenge for the wrong he felt had been done to him….
Could Gavin be bullying this kid again?
This site is managed almost exclusively from my Samsung Galaxy Note 3. Please forgive any typos as auto-correct HATES me. 😉
Update: If you like this post, check out these as well. Click —–> Here <—– for my Top Posts.
Visit the My Autism Help Forums
To reach me via email, please Contact Me