One of the things that I learned very early on about Autism parenting is that you have to have reasonable expectations. Kids with Autism are capable of some amazing things but they may never love up to your expectations if those standards are set too high.
This isn't necessarily easy to figure out and I don't know that I really have any good advice on how to establish those reasonable expectations for your kids.
We know that every child with Autism is different. Your expectations should line up with your child's developmental abilities and perhaps push a little beyond, if appropriate.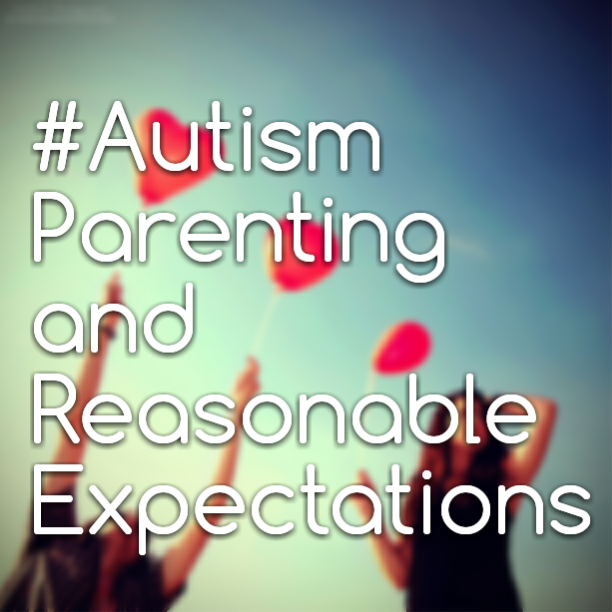 All I know is that life becomes much more enjoyable when become more in tune with our kids on the spectrum.
Okay… Let me give you an example of what I mean…
My youngest Emmett (5 years old), doesn't tolerate clothes all the time. If it were up to him, he would run around in his underpants. Forcing him to always be dressed is very overstimulating and even painful for him.
Over time, we learned to have a more reasonable expectation for Emmett and his sensory related oversion to clothes.
He has to wear clothes to school a day of course, leave them on while he's there. If someone is visiting our home (which never happens), he needs to be dressed. If we're out in public, he needs to be dressed. The rest of the time, he's free to do his Risky Business dance throughout the house.
Eventually, he'll move past this and he's already come so far.
Having reasonable expectations is simply finding some sort of balance between what you need your child to do and what they are able or willing to do.
It's never a perfect solution but it respects the child's possible limitations while at the same time balancing that with what you need to accomplish.
I would love to hear about your experience with this sorta thing because I think that this is something that many people can struggle with… Please leave your comments below….
This site is managed almost exclusively from my Samsung Galaxy Note 3. Please forgive any typos as auto-correct HATES me. 😉
Update: If you like this post, check out these as well. Click —–> Here <—– for my Top Posts.
Visit the My Autism Help Forums
To reach me via email, please Contact Me