Holidays this past year have looked a little bit different than anything we have ever celebrated before. Christmas was confined to immediate family only and New Year's Eve was a casual affair. And with Easter quickly approaching, it seems like it will be the second Easter celebration in a row that will be kept to your close circle. However, just because we can't celebrate Easter in the way we want to, surrounded by tons of friends and family, does not mean it still can't be fun. You just have to think of creative ways to celebrate Easter at home! If anything, the pandemic has shown us how to make doing things at home more fun and meaningful than we ever thought possible. Here are 6 fun ways to celebrate Easter with the kids this year: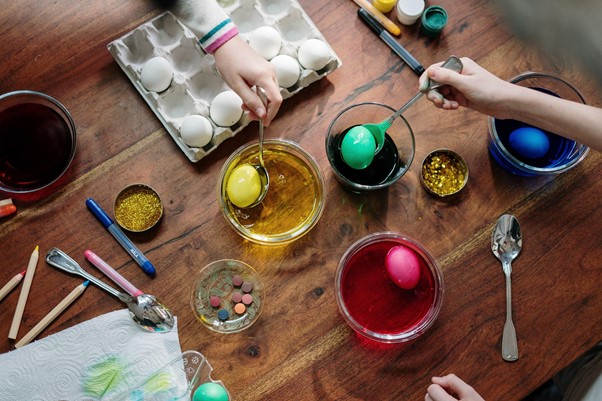 Make the party virtual
Just because we can't gather in big groups for Easter this year does not mean you can't still party with your family and friends! You just have to make it virtual. Set up a Zoom meeting with your loved ones and plan out an activity for you all to do together. Decorate Easter eggs, bake cookies, or even do a virtual Easter egg hunt! It will make the celebration feel a lot less lonely.

Stock up on the sweets
There is really no better way to celebrate Easter than with all your favorite baked goods. We all deserve to treat ourselves to as many cookies and cupcakes as our heart desires with the crazy year we have had. Save yourself a trip to the store and surprise your kids by having Easter gifts delivered this year—sweets are always a good idea, from chocolate-covered strawberries and cookies to cake. It makes the day that much sweeter.
Easter egg hunt at home
If you are used to going to someone's house or a public park for your kid's Easter egg hunt, just bring the party to your own house! You can get really creative with colorful Easter decorations, prizes, and more. Create a scavenger hunt for your kids and they will have so much fun, they probably won't even realize it is any different from their normal Easter celebrations.
Decorate Easter eggs
Decorating Easter eggs is always a highlight, and just because our celebrations are smaller this year, does not mean you still can't have fun with it! Get an egg coloring kit, markers, stickers, whatever it is you know your kids will have fun with.
Do a homemade brunch buffet
Many people celebrate Easter by going out to a brunch buffet with their friends and families. While going out to eat at a restaurant might not be an option for everyone this year, you can still bring the brunch to you! Go all out and make eggs, pancakes, waffles, french toast- everything that you would usually find at your Easter brunch. Plus, a homemade brunch buffet will probably end up tasting better than the real thing anyway.
Take family photos
A fun activity to do with your family this year is to get all dressed up like you normally would on Easter and take a bunch of family photos. It might seem pointless because you can't actually go anywhere, but getting all dressed up can be really fun and you will have a bunch of pictures at the end of the day to remember this Easter spent at home. You can even take all the photos and turn it into an adorable scrapbook!
Easter this year might look a little bit different, but that does not have to change the fun of celebrating! Although you can't gather with your friends and family like you are used to, you can still have a memorable Easter celebration at home with your kids. This is a great time to get creative and spend quality time with your family.
This is a contributed post.