Category:
Season 1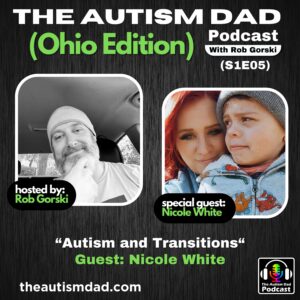 Nicole White from Instagram's Raising Raymie talks about her son transitioning into the new school year
**Episode Description:** This week, join us as we dive deep with Laurie Cramer, Executive Director of The Autism Society of Greater Akron. From her heartfelt experiences as a parent to an autistic child, to the pivotal changes needed to uplift the autism community, this conversation is both enlightening and inspiring. Learn about the incredible ways the Autism Society is making a difference locally. Don't miss out!
On this week's podcast, join me as I sit down with Brett Powell. After my conversation with Jamie Lewis Smith last week about her autism parenting experiences, Brett steps in to share the story of how he and Jamie united their families, offering his personal perspective on the journey.