I woke up this morning with the knowledge that it may be the last morning I wake up not knowing for sure where Emmett falls on the spectrum. It's like a nightmare you can't wake up from. I was putting Emmett to bed last night. I found myself asking him to fight. Actually, I was more begging him to fight. I begged him not to slip away and to please still be "there" in the morning. I think that's what scares me the most. With Gavin we simply didn't know what was about to happen. I have so many regrets. With Emmett I don't want to make the same mistakes. I know the risks now and don't want to take 1 sec for granted. I want this time to be filled with positive memories.
Autism is a bastard in the way it can work. I never know if today is the last time I will have my little Emmett John. Parents who lose a child to the rare regressive form of Autism will understand without me having to explain.
For those lucky enough to not know what it's like I'll try to explain. Imagine putting your son or daughter to bed one night. You read stories. They want you to read 5 but you only read 3 because your tired from a long day. Your son or daughter may ask again for you to read "just 2 more stories, please Daddy". You kiss them good night, tell them you love them and walk out of the room. Your thinking "I'll read 5 stories tomorrow night".

You go to bed like usual and wake up just like you always do. Except this morning will change the rest of your life. You go to say good morning to child and something is different. You can't put your finger on it but something is wrong. Your child is acting strange today and seems disconnected and lost. You brush it off as "their just tired" but its more then that. It's like they don't even see that your there. You start to notice things that are out of character for the child you have known since birth. Eventually it begins to feel like they are not even the same person. It literally feels like someone came in the middle of the night and "stole" everything "that made them,them". Your left with an empty shell. Your child looks the same but their personality is different and they are disconnected from you in way that you have never experienced before. Then You realize you have woken up to a child that you don't know. It's a horrible and confusing feeling…..when you first realize this.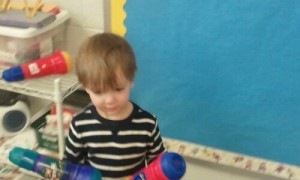 This example is not that far fetched. You ask any parent that has experienced this and they will tell you "it's like we put them to bed and when they woke up everything was different. It's like someone came and took our child away and replaced them with someone that looks the same, but they're not".
Be grateful you can't even imagine this. Because then the guilt kicks in. A guilt you have never known. "Why didn't I just read 5 stories?". You will ask yourself that question and carry that burden for the rest of your life. It seems silly, right? But the truth is that you would literally give your own life just for a chance to go back and read them those 5 stories. In fact you would read to them forever if only given the chance. This will be something you never forgive yourself for. No one will understand why you are so hard on yourself but they just don't get it. That was the very last chance you had to spend time with your child when you were both in the same place at the same time. When you were connected and they knew you loved them.
I experience this regret every single second or every single minute of every single hour of every single day. It never goes away and I will never forgive myself. I just can't bare the thought of that happening again. My heart can only be broken so many time before it just shatters.
I still spend every day with Gavin. I should be grateful he's still alive, right? It seems like an easy answer but it isn't. Everyday I live with the constant reminder of what I used to have. However, he is no longer there on the inside. In reality the Gavin I knew died when we was 4 years old. I mourn his loss every day and it often times feels like torture because I see what I can never have back. It's like everything that made Gavin, Gavin died. However, his body stayed behind in some cruel twist of fate. Does that make sense? How do you ever heal from that type of loss. How do you ever move on when their physical body is still here but "they" are no longer with us. It's torture. Pure and simple torture.
I truly hope you can learn from my experience. You don't want this type of regret. Please don't EVER take your child for granted. Read them their 5 stories at bedtime. Heck read them 10 stories. Remember that every day you have with your child is a blessing and could be taken away at any time. My point is not to spread fear but make you aware of what I have live with each and every day. I know I'm not alone. I pray you never have to experience any of these things but odds are some of you will. Please pray that I don't have to experience these things again……..