Being a special needs parent has its ups and downs..  Sometimes the downs seem to out number the ups. Then there are days like today, that give me the strength to get up and keep moving forward.
These little victories,  make all the difference in the world to my family.
I know much of the world can't appreciate these little victories but I sure do.  I find inspiration and strength in these victories.  I see them for the truly amazing steps forward that they really are. I'm filled with pride for my little one's progress today. It may not seem like a big deal, but it is very much a big deal. If you watched the video from yesterday's post, Can you Understand, you can put this more into context.

Yesterday, we couldn't ever get Emmett dressed and today he's dressed and playing in a bean box. This is a method of desensitizing Emmett's skin so he can better tolerate the feel and texture of his clothing. This is a sensory tool,
Basically, this is a large box filled with corn kernels and dry beans. It's can be an unpleasant experience for those with sensory issues but a great way in which to help them work through it. In Emmett's case, he jumped right in and played in the box….bare foot. I was completely floored by this and filled with an overwhelming sense of pride for what my son was doing.
Way to go Emmett.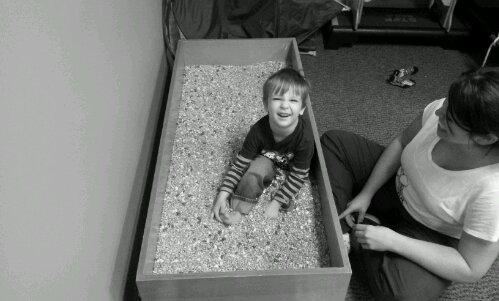 – Lost and Tired
Posted by WordPress for Android via Samsungs Epic Touch 4G (provided to me at no charge by Sprint) without the use of proper editing tools and disadvantages of a bastardized version of auto-correct. So please forgive the spelling 😉
Please Vote for Lost and Tired (just click the link) and help me spread Autism Awareness. Everyone can Vote once a day 🙂