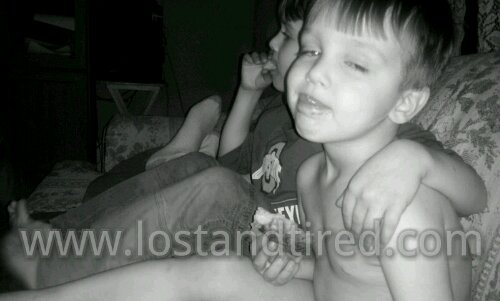 In, just under the wire. 🙂
Today's victory was pretty cool and totally unexpected. I was to tired to cook tonight so I ordered pizza for the boys.

I wasn't very hungry so I didn't eat everything I had on my plate. Elliott asked if he could have my last piece and I said, sure.
Emmett just came back into the room after throwing his pizza away and pitting his plate in the sink. However, as soon as he saw that Elliott had my last piece, he decided that he wanted it as well. Soon a battle ensued over this last piece of pizza.
As soon as Elliott had his back turned, Emmett snuck in and took a bite. However, after a brief period of screaming back and forth, Elliott broke the piece in half and shared it with Emmett. He did this of his own free will. I would have backed him up on this because Emmett should not be allowed to think that he can just take whatever he wants.
Emmett responded to Elliott peace offering by saying thank you and giving Elliott a big hug.
Then they sat on the couch, together, each eating their little piece of pizza. Elliott had his arm around Emmett and all was well with the world again.
I had to grab the picture pretty quick and I caught Emmett mid-blink. 🙂
I'm so proud of my little guys today for working things out on their own and in a way that showed compassion, forgiveness and brotherly love.