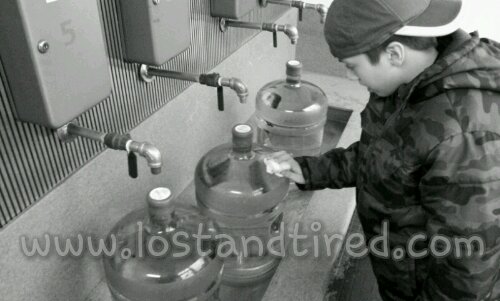 Today's Vitory I brought to you by my oldest son,  Gavin.
We get our water from a company called Clear Water.  He have a 5 gallon water cooler and so we have to refill the jugs about every week or so.

Sometimes,  Gavin will tag along and always wants to help.  Typically,  Gavin can't seem to get the timing of shutting the water offer before it sprays everywhere.
However,  on this occasion,  he did the entire process on his own. He put in the token and filled up the jugs without soaking himself in the process.
He even wiped them down when he was done.
This seems like an arbitrary skill but the reality is that he needs to know this kind of thing in order to function independently in the future. 
The bottom line is that it was something he couldn't do before and now can.
The sounds like a big'ol victory to me.  Great job Gavin…..
This has been posted to WordPress via Galaxy S2 Epic Touch 4G by Samsung, without the use of proper editing tools.