Losing a child to regressive #Autism
I want to talk about a very personal situation and share my feelings on this particular subject. Most of my posts revolve around Gavin, my 11-year-old son. Honestly, that's because Gavin's behaviors are one of my single biggest source of stress. Please, notice I said, "Gavin's behaviors" and not "Gavin".  Gavin is a very unique and very complicated person. I want to be very honest about my feelings in this post in order to give the world a better understanding of what our lives are like.
I also want people to understand that it's okay to feel the way you feel. Raising a child on the spectrum is no easy task, but in the end, is totally worthwhile.
Gavin came into my life when he was about 15 months old. His biological father and my wife's ex-husband,  was a drug addicted, alcoholic, wife beater and child abandoning loser. While that may sound harsh, every bit of it's true. I said I was going, to be honest. This is me being honest.
When Gavin and I met we bonded instantly. I grew to love him more than anything in the world (I would even fight, in court to protect him, for the better part of a decade at great expense).
One day, when he was 3 or 4 years old, everything changed. We put him to bed one night "Gavin" and he woke up someone else.
Most people won't understand what I'm talking about and honestly, I don't fully understand it myself. The truth is, it literally felt like he changed overnight. I know how crazy that sounds but it's the God's honest truth. He looked exactly the same as he did the night before, but it was no longer him. I remember thinking that someone must have come into his room in the middle of the night and stole him from us. In exchange, we were left with someone we didn't know.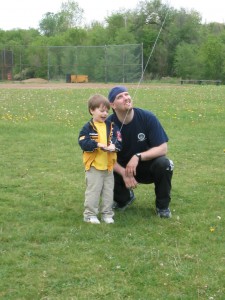 This person looked just like Gavin, but at the same time, wasn't. The light in his eyes was gone. His entire personality shifted and he became disconnected, violent and mechanical. He was a different person.
No matter how I try to explain this it will never make any sense and likely come across wrong unless you have experienced this tragedy yourself and even then…… That said, I'll do my best to explain.
The Gavin I knew and loved, the one I had raised for almost 3 years had, for all intents and purposes, died. I hate reliving this because it is so incredibly painful to remember. Few people will ever experience this unique type of loss and I'm thankful for that. This type of loss is truly a torturous one because while the child you loved is essentially gone, their body isn't. Every single day I wake up, I see my son and for a split second, I forget what happened. However, without fail, I come crashing back to reality the moment I try to engage with him.
Even after all these years, it never really gets easier.