As fellow special needs parents you are probably aware of how difficult and challenging it can be to get our kiddos with #Autism to eat their vegetables. 
With 3 boys on the #Autism spectrum,  I'm all to aware of this challenge as I face this every single day.
I thought I would share oe of my success stories and introduce you to what I call,  Undercover Vegetables.

Undercover Vegetables are vegetables that are tasked with covertly providing nutrition to my kiddos with #Autism.  They perform this task without even my pickiest eater realizing it happened.
When dealing with children on the #Autism spectrum,  you basically have to employ creative methods in order to accomplish many things that would come much easier to other families.
Basically,  we do what we have to do…
Today, I launched another successful campaign to provide proper nutrition to my kids.  This campaign was spearheaded by none other than the Undercover Vegetables.  In the picture below,  you'll see a bowl of chicken noodle soup. It looks like a typical bowl of kid friendly chicken soup.
Kid friendly refers to no vegetables and lots of noodles,  at least for the Lost and Tired family.  🙂
However,  looks can be deceiving? 
This homemade chicken noodle soup contains 1.5 lbs of baby carrots,  an entire package of celery,  a fresh bag of kale and an entire onion.  Because the vegetables are undercover,  they are not detected by any of my kiddos.
This means my kids are eating healthy ad they don't even realize it.
I simply through all the veggies into the blender and liquefied them.  After that,  I let them simmer in the soup for most of the day. The discoloration caused by adding the veggies disappears and they become undetectable to even my pickiest eater. 
I hope this helps some one out there to sneak veggies into your kids diet.  This method of Undercover Vegetables can be used in many different ways. This just happens to be what I did. 
Good luck 🙂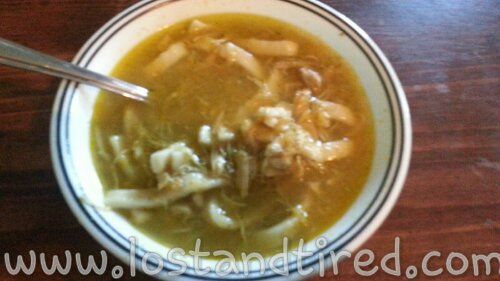 **Thanks for reading**
       -Lost and Tired
Please join our Autism Help Forum
Look for "Autism Help" app at the Google Play Store

This was posted via WordPress for Android, courtesy of Samsung's Galaxy S III. Please forgive any typos. I do know how to spell but auto-correct is working against me.