This is a typical meal at the Lost and Tired house.  Granted we haven't put out the fruit, drinks and veggies but you can see that everyone has something different. 
It's damn near impossible to make one thing that is acceptable to everyone. 
Each of the boys has different sensory needs and those needs impact what types of foods the tolerate.  I can safely say that I no longer enjoy cooking because it has become way to big of an ordeal to please everyone. 

In all fairness though,  please is probably the wrong word.  They have no control over this and I don't blame them one bit. 
Having said that,  it doesn't mean I still don't get frustrated.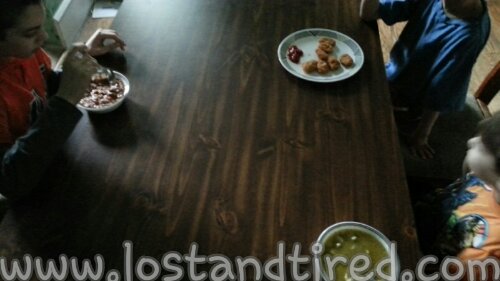 Again, this picture just has the three different main course meals.  They hadn't been served everything else yet.  I just wanted to show the three different meals.  🙂
**Thanks for reading**
       -Lost and Tired
Please join our Autism Help Forum
Look for "Autism Help" app at the Google Play Store
This was posted via WordPress for Android, courtesy of Samsung's Galaxy S III. Please forgive any typos. I do know how to spell but auto-correct is working against me.