I don't know that I have ever actually discussed this.  I had a parent contact me and ask about the GFCF diet.
Basically, their child has been on it for a year and they haven't seen any improvement.
They asked for my opinion, which I shared. Personally, I don't buy into the whole diet thing.  There is little if any scientific evidence that shows any benefit for kids with #Autism.

Having said that, many families swear by it.  It's hard not to stand up and take notice when so many people think it's the greatest thing in the world.
We have Celiac in my family and the GFCF diet can literally be the difference between life and death.  So, I'm very familiar with the diet from that perspective. 
My personal thoughts are that kids that do better on the diet, are simply responding to the absence of an allergen.  On the other hand, I often wonder how much of the success stories are people seeing what they need or want to see?
I'm not judging anyone for pursuing the GFCF diet as it's actually a very healthy diet that most people would benefit from.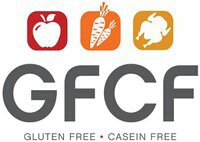 Even if the diet does work for some people on the #Autism spectrum, that doesn't mean it will work for everyone.
So I ask you. How do you feel about the GFCF diet in regards to improving the life of your child with #Autism? Do you think it works, if so, why?
Have you tried the diet with your child?
Let's have an honest, open discussion about this because many parents are  desperately looking for answers or options. 
Much like the vaccine debate, this can be a hot issue and I only ask that we respect everyone's views, even if we don't agree.  Maybe we can all learn something from each other. After all, we're all on the same journey and want what's best for our children.