Let me clarify something. My personal choice to not shop at Pet Smart, is just that, my personal choice. I'm not asking, suggesting or even hinting that anyone else should follow suit.
I also know that this very likely isn't how Pet Smart does business usually.
Having said that, this was in fact our experience, inside the Banfield Animal Hospital that is located inside of Pet Smart. If nothing else, In would think that Pet Smart would want to know that this occurred so that they can ensure it doesn't happen to another family.

This blog is all about my family's personal experiences. This is one of those experiences and it greatly affected us, therefore I feel it's does belong here.
Again, I'm simply sharing why I personally, will not return to Pet Smart. What you or anyone else does is up to you and everyone else.
Today we put to rest the very first dog I ever owned. Her name was Rogue and she was with me on the day I met Lizze. Until I was writing this, I had forgotten about that.
Rogue was almost 13 years old and suffered what we believe was a stroke today.
With it being a Sunday, all the other Vet clinics are closed so we made an appointment to have her seen at the animal hospital inside of Pet Smart. We had called ahead to make sure that they were equipped to handle it should she need to be euthanized.
We were told that they could handle a situation like this and so we scheduled an appointment at 4pm.
A bunch of us brought her in to the North Canton, Ohio (Belden Village Area) location, because we knew this was going to be goodbye.
This is where everything went downhill.
The woman at the front desk was named Becky.  She was very unpleasant and showed little compassion for us right from the start. We were put into a room where we basically waited for well over an hour to be seen by the Vet.
A tech came in at one point and that was the only communication we had with anyone until the vet came into the room.
We all waited knowing full well what was going to happen but it was taking forever and no one stopped in to check on us or explain the significant delay.
Everyone was very emotional because Rogue was a member of the Lost and Tired family.
At one point, Lizze walked up to Becky in an attempt to get some tissues.  Lizze was crying and Becky, showing not an ounce of decency ignored her and took a call and began explaining insurance options to someone on the other end.  All while Lizze was standing there crying, trying to get her attention.
What was so hard about acknowledging her presence and asking if she could help or simply find out what she needed?
I was very offended by her lack of compassion and honestly questioned why she was allowed contact with people in the first place.  We all noted her poor treatment of us.
When the Vet finally came in to see Rogue, it was decided that it was best to end her suffering and put her to rest.
The Vet and her actual techs showed us a great deal of compassion and respect.  We were all very grateful for that. Unfortunately, Becky's demeanor was more than enough to make an already difficult situation that much more difficult.
They asked us to leave the room so the could start the line needed to administer the fatal medication.
As we gathered outside the door waiting to say our final goodbyes and be by her side and she went to sleep for the final time, we were all crying.
It was at that point that Becky took it upon herself to collect payment for the visit and medications associated with what hadn't even happened yet.  I asked her if she could just give us a few minutes as the procedure hadn't taken place yet.
She replied that they needed paid in full before they would continue with the procedure. I was really taken aback by this and not only offended but angered as well.
I wanted to know why she was trying to collect monies now before anything had even happened.  How often do you pay the vet before the visit?
She kept pushing and again I asked why she was handling us in this manner and why she was showing us no compassion. She replied that it was company policy to collect payment prior to the visits.
It was at that point that I said I hope that some of what they were charging us went to sensitivity training.
My Dad paid the bill and then we went back into the room to be with our dear friend as she passed on.
I don't know what else to say about this experience. This was very painful for all of us and the treatment we received from Becky only made it more so.  It's for this reason that Lizze and I have decided not to give Pet Smart our business any longer.
I understand that everyone has a bad day but would it have killed her to show an ounce of compassion to a family that was grieving?
We have had to put down pets in the past and the experience was completely different. Perhaps this is just what you get for seeking help from an animal clinic at Pet Smart.
Pet Smart, I realize that you won't even notice the loss of our business. However we will know that you no longer have it and that will have to be enough for now.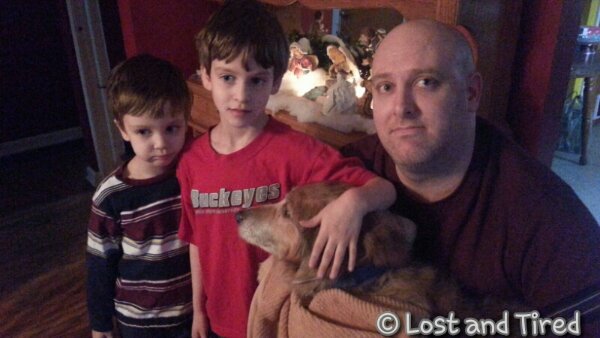 This picture was taken because the boys wanted a picture with her before we left for the vet's. They are both really sad but Elliott is devastated as he really loved Rogue and is such a sensitive soul.
RIP Rogue.  You were a good friend and a beloved member of our family for almost 13 years.  You will be missed.