Emmett is going to be 5 years old in the next few months and we are still struggling to keep him clothed. It's one of those things that sorta make him who he is.
He came home from my parents house yesterday and before I even saw him, I saw signs that he had been through here.
It's like the moment he arrived home he ran right up to the bathroom and took is clothes off.
For the most part, he will keep his clothes on when he's at his grandparents house but there are still times when we go to pick him up and he's running around in his underpants.  🙂

While Emmett is a child with Autism, he's also dealing with Sensory Processing Dysfunction as well.
Basically, clothes hurt.
One of the biggest challenges for Emmett is wearing shoes and socks.  We can almost never accomplish that feat without a spending a great deal of time and energy.  We have to put on and take off, both his shoes and his socks, countless times tonight them just right.
Even still, he simply tolerates them being on. That's still a good thing though.
We've made some definite strides forward but we've also had some setbacks as well. Thankfully, he almost always keeps his underpants on.
That may sound like a funny thing to be thankful for considering……but I have heard from other parents that their child prefers to streak around in his or her naked nethers.
We will run across that on occasion but not too often.
When Emmett was still in occupational therapy, he was doing better.
I would say that 95% of his time is spent in his underpants. If we had to go somewhere, he would get dressed, and he loves to wear character clothing from popgear. Shoes and socks are once again a problem..
For now, I'm really proud of how far he's come over the past few years.
I know it's a process and will have its ups and downs along the way.  We have the summer to help him tolerate clothes son that he can survive the school day.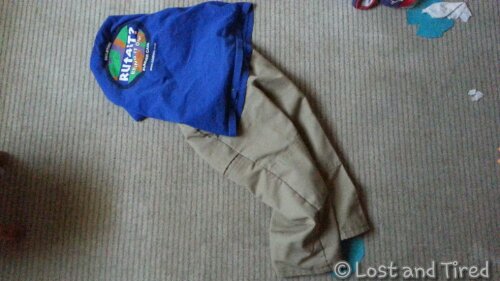 This site is managed via WordPress for Android, courtesy of the @SamsungMobileUS Galaxy Note 2 by @Tmobile. Please forgive any typos as autocorrect HATES me. 😉
Check out my #Autism Awareness Store to find really cool and unique #Autism Awareness Clothing and Accessories, designed by me. 😉
For more ways to help the Lost and Tired family, please visit Help the Lost and Tired Family.