Gavin had his first tantrum since returning home, this morning.  Lizze and I had just walked into my parents house to pick up the boys (I suppose it should preface this with, my Mom was watching Emmett and Gavin while we ran to the store). 
We were in the house for only a few minutes when Gavin began screaming like someone has chopping off his friggin fingers or something. 
In a panic, I ran to the back of the house to where he was, unsure of what I was walking into but it sounded serious. 

What did I find? Gavin sitting there watching TV.
First of all, Gavin didn't realize that we were there and I caught him off guard when I ran back to check on him and not my Mom.
Secondly, he screamed for absolutely no reason.
He wasn't hurt and he wasn't upset. I don't know what he was thinking, if anything at all.  I was pretty ticked off.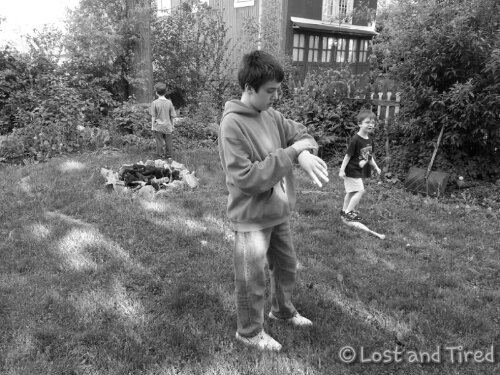 He told Lizze and I that he was expecting my Mom to show up, not us. What the hell does that mean? What was he hoping to accomplish, other than create a panic?
When Lizze and I spoke with him about this, we explained once again how he simply cannot pretend to be hurt or in pain.  That's the type of screaming he had been doing.  It wasn't joking, it sounded like he was in serious trouble.
I told him that if he continues to do that, no one will ever believe him if he's really sick, hurt or in pain. 
I don't care that he's got Aspergers, RAD or even any of the health problems he has.  There are consequences for his actions and he had everyone in a panic.
He was awarded plain Oatmeal for dinner tonight because he had already eaten lunch at my parents and dinner was next on the list.  Oatmeal is one of our goto meals when someone doesn't want what we make.  The consequences for his screaming was that he lost the ability to choose what he wanted for dinner.
This led to a decent size tantrum.  While it was relatively mild, Emmett was hiding and he created a scene. 
Not only is this bad for everyone around him but it's also dangerous for him do to his autonomic issues.  That said, he has to be held accountable and he needs to understand that you can't cry wolf.
I'm sure that no lesson was learned but at least we did what we felt was right and made the effort to teach him.
It's going to be a really, really long summer.  🙁

This site is managed via WordPress for Android, courtesy of the @SamsungMobileUS Galaxy Note 2 by @Tmobile. Please forgive any typos as autocorrect HATES me. 😉
Check out my #Autism Awareness Store to find really cool and unique #Autism Awareness Clothing and Accessories, designed by me. 😉
For more ways to help the Lost and Tired family, please visit Help the Lost and Tired Family.