Alright, I wanted to update you all on my experience with using the iPad so far.
How can I sum this up in a just a few words? How about love/hate. So far I have a love/hate relationship with my new iPad.
I'm finding myself frustrated at times because of all the things that Apple borrowed from android, they left out the friggin back button. For me, being used to having this available on all my android devices, I find this cumbersome to not have that one iPad.

Something else that I don't like is the onscreen keyboard.  To me, it's useless and inefficient, especially when compared to even the most simple keyboards available on android.  When you compare it to something like SwiftKey, the keyboard I use on my Galaxy Note 2,  there's a huge difference. 
On the topic of keyboards, who's idea was it to exclude lowercase letters on the iOS keyboard? I mean, the only way to know whether you're typing upper or lowercase letters is to look at the color of the shift button.  On android, the letters on the keyboard are literally displayed as both upper and lowercase, depending on whether you've tapped the shift key.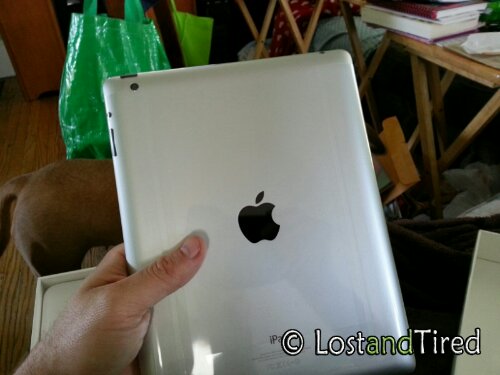 In my opinion, this is a bizarre thing for Apple to have done.  I realize that when using a physical keyboard, the letter on the keys are all uppercase but apple choose to design their on screen keyboard that way, on purpose.
I've also found myself having to tap things multiple times to get something to register. Moving the cursor within a field of text is not easy and I still haven't figured out how to copy and paste (is that even possible?).
Overall, I find the forced implementation of the iPads stock apps very limiting. It all comes down to a total lack of choice. 
With android, if I don't like the stock keyboard, I just download a new one.  The same holds true for just about every other android app as well. Nothing is forced on me. 
On the positive side, I still can't say enough about the build quality.  I love just holding my iPad.  It's extremely well built and the only thing that I could even conceivably compare it to on the android tablet side would be something like the Infinity  or the Prime, both by Asus.  That being said, both of those devices were plagued by hardware issues.
The iPad just feels amazing. 
I've also noticed that there are a variety of different apps available in the app store that are sadly unavailable in the Google Play Store.
I would suspect that androids hardware fragmentation is at the root of that. 
One of the things that I was going to try to do was use the iPad exclusively for a week and see how productive I could be. Unfortunately, at least for tonight, I've given up on that idea as I've already lost two rather large posts to the iPad version of the WordPress app.
I also found that using the onscreen keyboard on a 10 inch iPad is not really practical, at least for my needs. I would need to look into a keyboard dock or something to make me more effective.
So far, I just don't get why anyone would choose a predefined tablet with no ability to mold to your individual needs as a user, over a more powerful, feature rich and fully customizable android tablet.
I'll keep trying though.
This site is managed almost exclusively via WordPress for Android. Please forgive any typos as autocorrect HATES me. 😉
Visit the My Autism Help Forums
To reach me via email, please Contact Me