Okay…. Ha ha.  Yes, I said both penis and vagina in the title of this post. There's a reason for that and if we can all stop giggling, I'll tell you all about it. 
It all started out with this picture. (See below)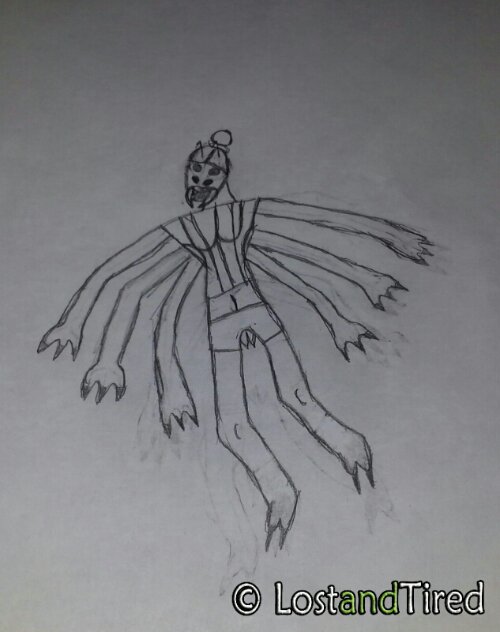 Gavin's been really focused on drawing lately.  I've been sharing his pictures almost everyday.  Today however, we had some concerns about his latest creation.
He calls this Woman Spider and it's inspired by an episode of Spiderman.
In this episode, Spiderman grows extra arms as he's turning into a real spider.  Gavin decided that he wanted to draw a female version of this.
If you haven't noticed anything….um…inappropriate, have a look at the picture below and I'll point it out to you.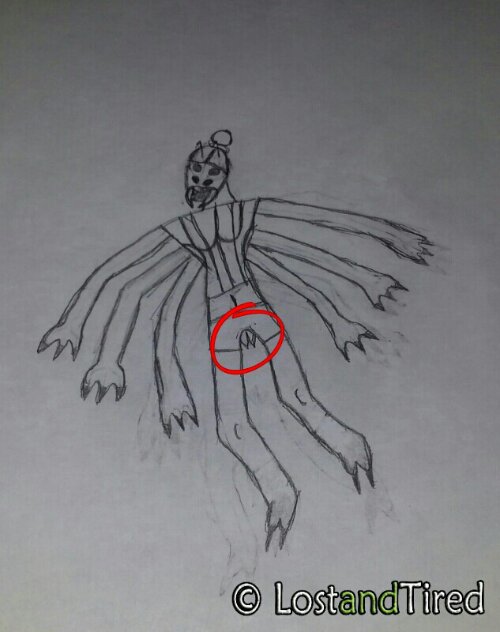 When I first saw this, I was like WTF!! He totally just drew a vagina on this creature.
However, instead of freaking out, I asked him to explain the picture to me. When we got to the um….part in question, he explained that it was her "web shooter."
I said,
web shooter, really?
He said that he couldn't figure out how to draw the abdomen, so he had to improvise.
I explained that I understood but I fear that some people might find this web shooter to be a bit offensive.
After speaking with Lizze, we decided to explain to Gavin why this was a problem, so he would hopefully understand and we can avoid this in the future. 
I tried to explain that what he drew looked like a vagina.
His response to me was "what's a vagina?"
That's when I explained that boys have a penis and girls have a vagina. Keep in mind that Gavin has already had sex-ed and still doesn't know or remember what a vagina is. 
I was not prepared to have that conversation with him, nor was Lizze. 
What proceeded after that was a very awkward, impromptu conversation about boy and girl parts.
Part of me wonders if this was just one of those things he does, so that he can watch us squirm. It's entirely possible that he was messing with us but it didn't really feel that way. 
The impression I got was that this was a totally innocent artistic mishap.
I never want to censor my kids, especially when they're being creative.  That said, we do have to be careful, specifically with Gavin, because he's in a place where he's drawing female figures very anatomically correct.
If he did that at school, it probably wouldn't go over well. We just want to make sure he's not going to get in trouble and he understands what's appropriate and inappropriate. 
This site is managed almost exclusively via WordPress for Android. Please forgive any typos as autocorrect HATES me. 😉
Visit the My Autism Help Forums
To reach me via email, please Contact Me