After all the drama from yesterday, listening to the advice from you (my readers) and some careful thought, I've decided to change my commenting policy. Up until this point, I have never banned a commenter or deleted a comment. The reason for this is because I want everyone to have a voice and be able to share their opinion, even if I don't agree.
Unfortunately, things have gotten out of hand and after several repeat offenders spit out some pretty nasty comments last night, I've decided to take a different approach to addressing these people.
The policy is simple, straight forward and hopefully understandable.

Everyone is welcome to share their opinions, thoughts and feelings on this blog. No one is required to agree with me or anyone else and are welcomed to express their difference of opinion. However, since I clearly have to draw the line somewhere, let's start with this.
I will not tolerate personal attacks on myself, my family or my readers. Let me give you an example of crossing the line, just so we are crystal clear. You can view the trollfest from last night here ——-> Here
This comment is something that I take offense to:
ROB – THE DOCTORS TOLD YOU LIZZIE IS AN ADDICT!!!!! they told you – in no uncertain terms, that she needs to be admitted to a clinic for rehab and to detox, This would be a mutiweek process. I am not passing judgement on Lizzie's intentions re: her addiction. Nor her character. It can happen to anyone. But she should really get help. Addiction can only really end two ways Rob. I honestly hope for her sake she is reading these comments and can recognize that she needs a facility to help her. Maybe then she could actually do something with her life. The funny thing is: Lizzie is a FAR superior writer than you. I find her blog to be well-written and her commentary is spot on, way more so than you. She should have the writing career. And maybe she could if she could get some help. Just sad. If you were half the hero you claimed to be you would have helped her and insisted she do the rehab. That's what a real caring husband would have done.
Not only are this commenter's words completely fabricated, they are hurtful, personal attacks and off topic as well. I was simply sharing how my wife's endoscopy went and what we learned. What resulted was a 50 comment thread of my family being attacked, as well as some of my readers. We also had a great many come to our defense and for that I'm grateful.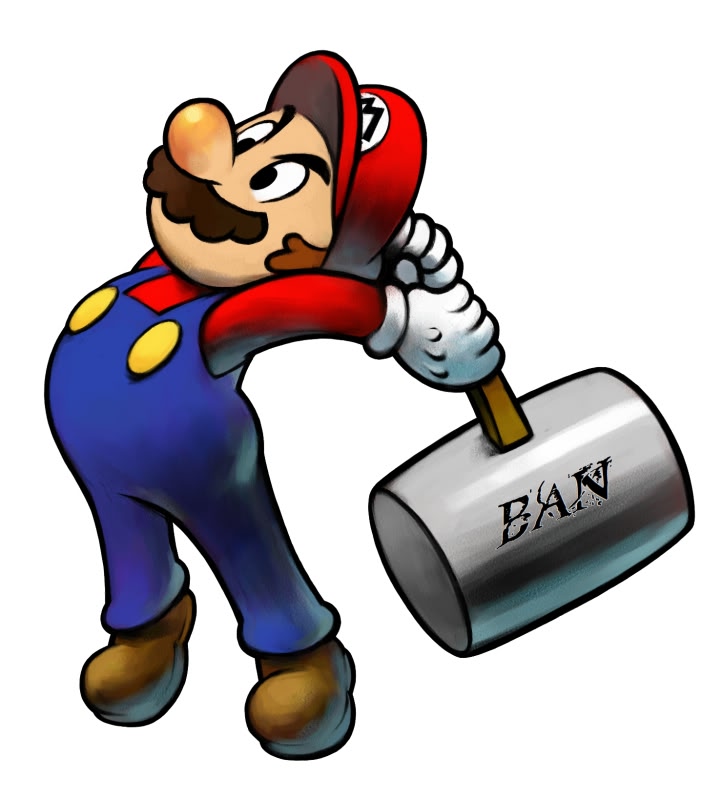 With that said, it shouldn't have to be that way and for the most part, it hasn't been.
You, as my readers, have the ability to flag any comment that you feel is mean spirited or hurtful, regardless of who the comment is directed at. Once flagged, I will be notified and can decide how to proceed from there. I've had only a small number of commenters actually become a problem, so I don't foresee much need in the future.
I've been blessed with amazing readers and we are able to discuss a great many things without anyone getting nasty and for that, I'm very grateful.
From this point forward, anyone who levels personal attacks at my family or any of my readers will meet with a verbal warning. If that person offends a second time, I will introduce them to my new friend, The Ban Hammer. If someone is banned and they signup for a new account, I will know and their new account will be banned as well.
Let's be very, very clear on this point.
Things that are welcomed at Lost and Tired sites.
Sharing of ideas and experiences
Discussions and debates
Heated discussions or debates
Sensitive topics
Differences of opinions or beliefs
Constructive criticism 
Asking questions
Seeking and offering advice
Unsolicited advice
---
What's likely to get you smashed by The Ban Hammer?
Personal attacks
Hateful or hurtful comments towards ANYONE
Intolerance
I truly hate that I have to do this but unfortunately, as this site grows I need to keep things moving forward and ensure my readers feel safe and comfortable leaving comments without fear of being attacked for their beliefs or opinions. At the same time, while I recognize that I open myself up to scrutiny by posting in the first place, I shouldn't have to endure nastiness either, nor should my family.
This afternoon, I have banned the three commenters from last night. They have been habitual offenders over the past few months and they crossed the line last night. I had asked repeatedly over the past couple of months for them to please refrain from their unpleasant and offensive comments but they refused to stop.
I feel like if the rest of us can be civilized, so should they. Most of you know who I'm talking about and with any luck, we can all move forward with some great discussion.
If you should have any questions or concerns about this new approach, please don't hesitate to shoot me an email. I'm happy to help. 🙂