First of all this is probably the type of loaded question that I would hate to answer myself.  Having said that, I think it's an interesting and relavent question because I would suspect that answers will very based on personal experience.
Do you consider Autism a disability?
For me personally, I would say yes and no.  The reason it seems like I'm taking the safe way out is because I really think that due in large part to everyone's uniqueness and various placements on the Autism Spectrum, it's impossible to answer this with a yes or no.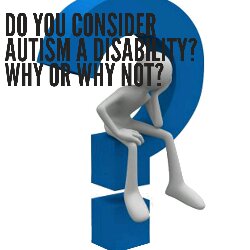 Again, everyone's experience with Autism is likely to be very different.
Because some people are falling on the lower functioning end of the Autism Spectrum, I would suspect that they would be more profoundly impacted. 
Likewise, others fall on or towards the higher end and may be not so profoundly impacted. 
Everything is relative and everyone's interpretation of their experience is different.  I hate using the terms high or low functioning because it's not always an accurate way to describe a person's situation, as it relates to Autism. 
Having said that, those same terms help to differentiate between people on the spectrum.
Okay, now I throw the question to you…….
Do you consider Autism to be a disability?
Please keep in mind that there are non right or wrong answers, only your experience and opinion.
This site is managed almost exclusively from my Galaxy S4. Please forgive any typos as autocorrect HATES me. 😉
Follow @Lost_and_Tired

"Like" me on Facebook

Visit the My Autism Help Forums
To reach me via email, please Contact Me
Setup of an account with Bluehost and I get paid. If your looking for a host for your website or blog.
Click the image below and check out Bluehost. It's what I use.