Elliott has found at least a temporary outlet for his feelings and anxieties.  He's writing…..  This is really cool because he's needed something like this for awhile and he's so excited and focused right now. 
What really makes me proud is the fact that he's writing about his love for My Little Pony and he doesn't care what anyone thinks.
Here's is his very first ever post, pay attention to the bold text.

My little pony Equestria Girls is the best  movie in the world I have ever seen. I can't stop watching it because it's amazing so I decided to set up this blog I know it may be a girls  show but it doesn't stop me from watching it. I love the song it is catchy so I am writing this story live I am a Gorski so I do it for living.
This Dad couldn't be any prouder.  I'm so honored to be a part of his life. 
I had this old Netbook computer that wasn't working. I fixed it for him and now he's learning to use Microsoft Word and he's writing his thoughts and feelings down. Not only that, UT he wants everyone to be able to read them.
Lizze and I both are so grateful that he's found a way to express himself and I don't care one bit that he writing about his love of My Little Pony.
I have to honest, after the crappy day that I've had and feeling like a total failure, I look at this and realize that I must be doing something right. 🙂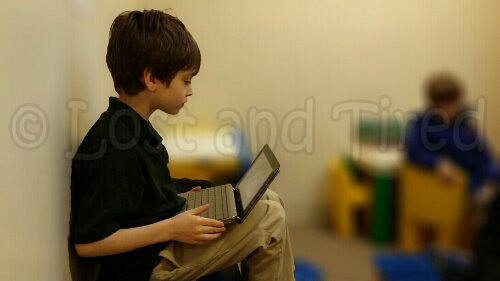 Here's the direct link to Elliott's first ever post: Click Here
If you have a second, please check the post out and leave some positive feedback in the comments. The first thing he's gonna do in the morning is check out what people have said.
Thanks everyone. 🙂
This site is managed almost exclusively from my Samsung Galaxy Note 3. Please forgive any typos as auto-correct HATES me. 😉
Follow @Lost_and_Tired

"Like" me on Facebook

Visit the My Autism Help Forums
To reach me via email, please Contact Me