This is one of those days where everything that can go wrong, will go wrong.  We just can't seem to catch a break and it's pretty demoralizing.
I haven't shared this yet but we are battling fleas.  We've never had a problem before but about 4 weeks ago we got hit hard.  As I'm not sure who all is reading this, I will just say that there is a ground zero in our neighborhood.
The fleas seem to have spread from there and infected most of the neighborhood.

Lizze, Emmett and Elliott are getting bit as well as the dogs and cats. All of our animals are treated for fleas each month with Frontline.  However, it's so bad in our neighborhood that it doesn't help much.
We are vacuuming everyday and putting bed clothes in the dryer each day as well.
The dogs and cats are getting bathed every other day and brushed daily.  We're actually turning the tide and winning the war but it's exhausting and itchy. We can't treat the animals again for another week but hopefully, that will be it.
We looked into fogging the house but the boys have asthma and so that's a no go.
I spoke with out vet and he said that the fleas have been really aggressive this year.  You either don't have any or you have it really bad.  There's no in between this year.  They said that it's taking about 2 or 3 months to completely get rid of them but hopefully, with the recent snow and freezing temps, they will stop bringing them into the house.
Anyway, I've been teaching Gavin to use the vacuum and he does okay with it.  However, last night he broke it beyond repair and now we are dead in the water until I can replace it.  Normally, it wouldn't be a huge deal but with the fleas it sorta is.
Earlier this morning, we had a gust of wind that busted the latch on the front door.  It's sorta like a screen door but it's all glass.  Now the front door keeps swinging open in the wind and we have high wind warnings out for today.  Every time it swings open, it freaks the boys out.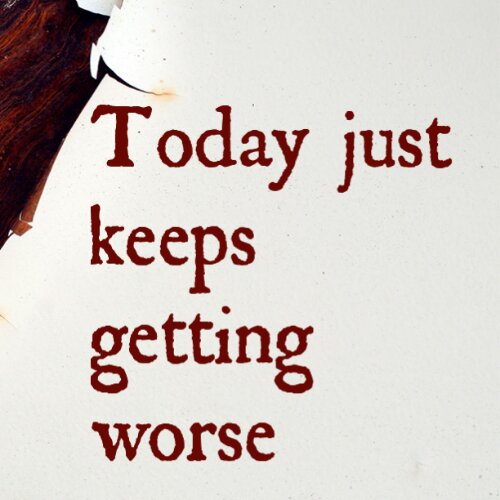 Speaking of the boys, Elliott isn't feeling well this afternoon.  He's having some tummy issues and is running a fever.  He's resting on the couch and watching his favorite movie.
Emmett's been having meltdowns all morning. He has this high pitched, ear piercing shriek, that makes your head feel like it's gonna explode.
Then of course there's Lizze. She's not doing well today either. That's honestly another post all together.
It's just really overwhelming to know all of these things are going on and there isn't really anything I can do about them right now. I mean, my mouse even stopped working this morning after it was knocked on the floor by really bouncy kids.  We still need to get a new battery for the van cause we keep getting stranded and I need to get the rest of the leaves up.
If I were a turtle, I think I would just tuck myself inside my shell and hide from everything.
This site is managed almost exclusively from my Samsung Galaxy Note 3. Please forgive any typos as auto-correct HATES me. 😉
Follow @Lost_and_Tired

"Like" me on Facebook
Visit the My Autism Help Forums
To reach me via email, please Contact Me