I don't know what's going on with Emmett. He's having a rough time anymore. I've mentioned before that he seems to reverted back to a previous behavior pattern and it's not a good one. He's still a little adorably sweet little boy but he's also become very violent and aggressive.
He outgrew this behavior over a year ago or so we thought.
For the past couple of weeks, we've seen a return to this same behavior. He's physically violent towards Lizze and Elliott, especially when he's upset about something.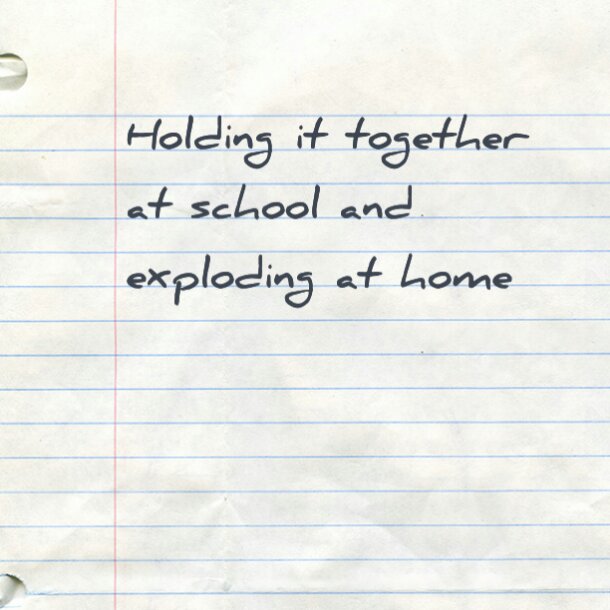 When he does get upset and it doesn't take much to do that, it's almost like he rages. He's kicking and hitting himself and anything he can get a hold of, including his family. There's also the screaming. OMG, the screaming is absolutely horrible. I don't know how the police haven't been called to our house because it sounds like we are torturing him.
For example, today when I picked him up from school, the moment he got into the van he exploded. His carseat is right behind the drivers seat and he spent the entire ride home, kicking my seat and screaming at the top of his lungs.
It was horrible.
The screaming continued long after we arrived home.
This has been a reoccurring pattern as of late.
Lizze and I have spoken with Emmett's teachers several times now to find out if there are any problems at school. Thankfully, Emmett is doing excellent in school and this behavior was reserved exclusively for us.
After discussing things with Dr. Pattie and Emmett's teachers, we've come to the concensus that Emmett is spending all he has at school. He can basically hold it together while in the classroom and the moment he sets foot outside of the school, he just sorta unloads.
I understand that this is a pretty common phenomenon but it's still hard to cope with.
This site is managed almost exclusively from my Samsung Galaxy Note 3. Please forgive any typos as auto-correct HATES me. 😉
Follow @Lost_and_Tired

"Like" me on Facebook

Visit the My Autism Help Forums
To reach me via email, please Contact Me