Things just keep getting worse for Gavin. He told us this afternoon that he almost collapsed again today at school. His legs got weak on him but this time they didn't totally give out.
Once again, he never told his teachers or anyone else at school.
On the bright side, he did tell us the same day it happened. If there's a positive side to this, that's basically it.

We received his midterm-report today and it's not looking good at all.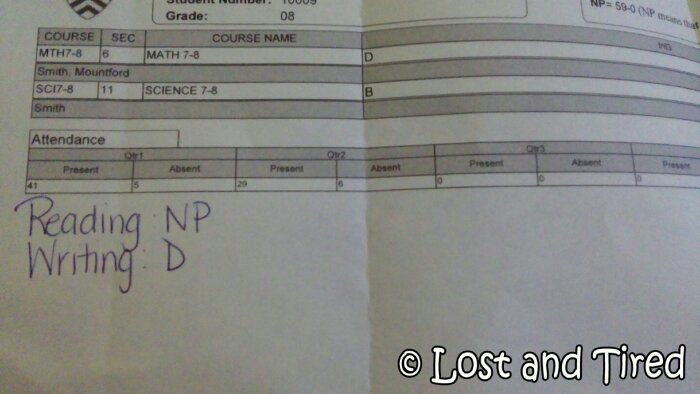 We met with Dr. Pattie tonight and we were going over all of this. Gavin was working on his homework and we took a look at it. It was a hot mess and that's putting it mildly.
His answers weren't even close to being right.
What's so frustrating is that we aren't sure what the problem is. It's very clear that he's not comprehending a large portion of pretty much everything.
Dr. Pattie is pretty convinced that while Gavin may be reading the directions, he simply doesn't comprehend what he's being asked to do.
I got to be completely honest here. I think she's right.
I believe that I've been making assumptions in regards to Gavin's educational situation that were somewhat misguided.
We've been sorting going on the assumption that Gavin wasn't taking the time to read the directions and that's why he's been having such a hard with his schoolwork. This makes sense because he's always rushing through his work.
Where I think I went wrong, has to do with Gavin's ability to comprehend what he's reading. The work that Gavin is doing, in most cases is really simple, with the exception of math.
I've been assuming that because the directions are pretty simple and straight forward, that he might just be rushing through his work and simply not taking the time to read the directions and subsequently follow them. This is where I believe that I became misguided.
Simply because the directions are rudimentary, doesn't necessarily mean that Gavin has the capacity to understand them.
Lizze, Dr. Pattie and I all agree that Gavin is very likely no longer able to comprehend even the simplest instructions.
He swears up and down that he reads the directions.
I'll be totally honest with you. I think that it was less painful for me to go with the notion that Gavin is just slacking off or rushing through his work and making careless mistakes. That's something that we can work with. It's tangible and something we can correct.
If Gavin's lost the ability to really comprehend anything he's reading, that means that we may be losing him again and I just can't bare the thought of going through that again.
At this point, Lizze and I have to meet with the school and Dr. Pattie is going to continue working on the intelligence testing.
I'm feeling pretty crappy right now and I wish there was something I could to make this better. Aside from the socialization aspect of school, I'm really wondering what the point is anymore.
This site is managed almost exclusively from my Samsung Galaxy Note 3. Please forgive any typos as auto-correct HATES me. 😉
Update: If you like this post, check out these as well. Click —–> Here <—– for my Top Posts.
Follow @Lost_and_Tired

"Like" me on Facebook

Visit the My Autism Help Forums
To reach me via email, please Contact Me