Emmett and I ventured out into this cold, crappy and rainy Saturday afternoon in an effort to replace his shoes.
There are quite literally about a million things I'd rather do that take Emmett shoe shopping.
It's not that I don't enjoy his company or I don't want to spend time with him. Emmett is so extremely sensory sensitive and his shoes and socks are the biggest challenge for both him and I.

His shoes never feel right and I'm always having to take them off and put them back on.
When we walk around the 1.5 mile track at the park, I usually have to fix his shoes over a dozen times.
Quite frankly, it's exhausting for both of us.
The idea of going to the store and trying to find my little sensory nightmare a new pair of shoes, was not what I wanted to do. However, his little feet were so unhappy with his current shoes, that to be completely honest, finding new ones became the lesser or two evils.
Out we went on our little adventure and soon found ourselves in the parking lot of Kohl's.
I was mentally preparing myself for the coming battle against sensory over-sensitivity, as Emmett and I walked through the rain soaked parking lot and into the store.
Emmett not only had sensory requirements for his shoes but they also had to light up and be tight on his feet.
We made it to the little boys shoes department and you won't believe what happened……
The very first pair of shoes he tried on, fit perfect and he was beyond happy with them. This has never, ever happened before. Clearly the shoe gods took pitty on Emmett and myself.
Emmett and I stopped at Menchies to get some ice cream on the way home….. This was cause for celebration.
Take a look at the pictures below and tell me if he looks happy to you.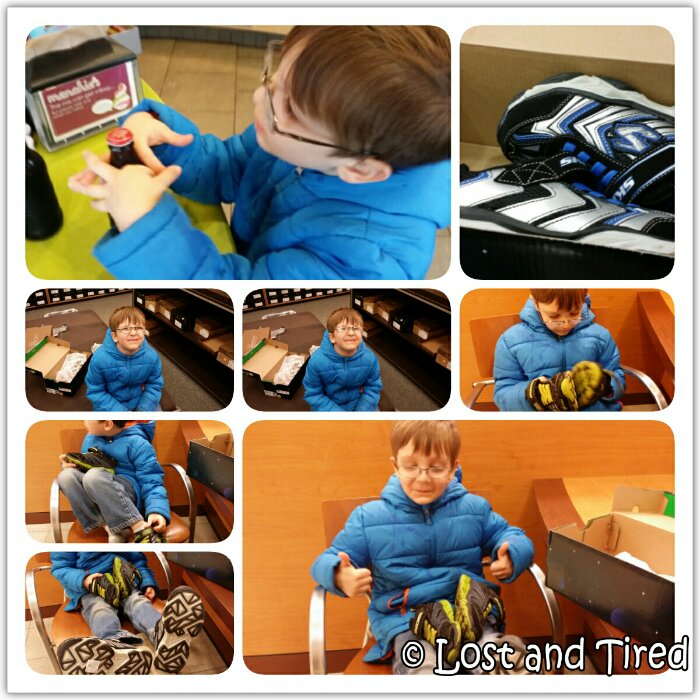 This site is managed almost exclusively from my Samsung Galaxy Note 3. Please forgive any typos as auto-correct HATES me. 😉
Update: If you like this post, check out these as well. Click —–> Here <—– for my Top Posts.
Follow @Lost_and_Tired

"Like" me on Facebook

Visit the My Autism Help Forums
To reach me via email, please Contact Me