Seeking help for depression is very important and that importance cannot be overstated. Taking any prescribed medications for depression is extremely important as well.
There is an initial hurdle that one must overcome when starting a new medication and that hurdle is known as side effects.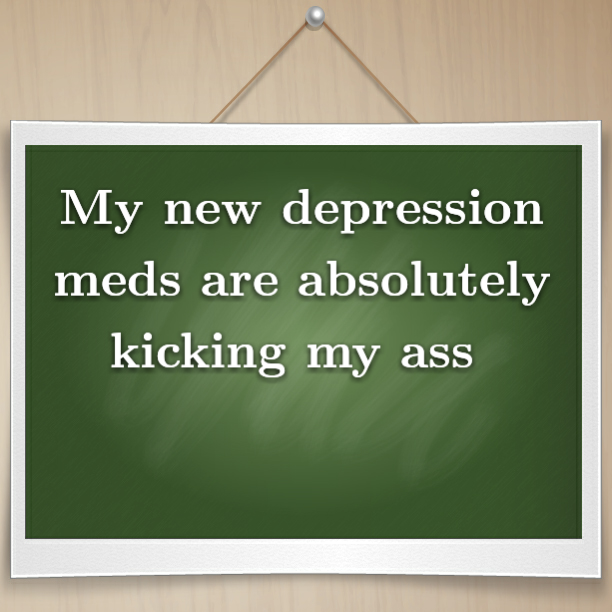 Everyone's body chemistry is different and some will have side effects while others won't.
I've needed to make a change to my depression related medications for some time now and frankly, I've been putting it off.
I'm fully aware of how important this is for me to do but at the same time, I was very concerned about the side effects, namely drowsiness. It's a temporary but very impactful side effect that I tend to experience when making adjustments to my antidepressants.
As a single parent to three kiddos with Autism, I'm already exhausted. Tired is my default setting anymore. I don't need anorexia help in that area.
Part of the exhaustion is being run ragged by my kids and part of it is depression.
When I saw my doctor earlier this week, I talked to her about my current battle with depression and how I was losing said battle.
We decided to add Wellbutrin to the Paxil I was already on, with the hopes that both meds would work together to help me overcome this most recent battle.
Of course, it's too early to know if this will actually help or not but what I can say for sure is that the side effects are kicking my ass right now.
It's the first day of a four day weekend and I'm literally pacing the house because if I sit down, I'm going to fall asleep.
I began taking my meds at night (rather than in the morning) again because I thought it would help me sleep through the night but the drowsiness is proving very difficult to shake, even 10 hours later.
As time goes on, the drowsiness will fade but until then, this is going to be exceptionally challenging.
As a single parent, this presents major problems but unfortunately, the new meds are likely a means to an end. In the long run, it will be worth the challenge.
This site is managed almost exclusively from my Samsung Galaxy Note 5. Please forgive any typos as auto-correct HATES me. 😉
Please remember to visit my Sponsors, Like, Tweet and Share my posts on your favorite social media outlets.
I can't do this without your help. So, if you like what I'm doing, PLEASE consider supporting my efforts. Click here to find ways you can help for FREE.