It's been a crazy day so far, but a truly amazing one as well. I'm able to officially share that Gavin will be having his wish granted. The timing is up in the air at the moment but it will be as soon as Gavin is able to make the trip.
We will be spending seven days in Florida at Give Kids The World Village. Weare getting tickets to all the parks there, including Disney, Universal, Kennedy Space Center, Lego Land, etc.
All of this is made possible by Wishes Can Happen.

The boys and I spent some time this morning at their 10th annual Wish-A-Thon. It's sponsored by 94.1 and WHBC, a local radio station. Gavin and I were interviewed on the radio. We shared Gavin's story and he did great. He was totally himself and anyone one listening, who know Gavin in real life, could easily say, yup that's Gavin. 🙂
I'll have more details on the trip soon but the main purpose of this post is to raise awareness for the WIsh-A-Thon.
While we were there, we witnessed another family sharing their story and it really hit home. I want to do everything I can to help raise awareness for Wishes Can Happen. They are doing amazing things for kids like Gavin and I wanted to bring their fundraiser to your attention.
If you are in a position to help Wishes Can Happen grant more wishes for kids with terminal or life threatening conditions, please consider making a donation in Gavin Gorski's name. Even if you can't or are uncomfortable doing so, please consider sharing this post and helping raise awareness for the good work they do.
The Wish-A-Thon
10TH ANNUAL WISH-A-THON
Springbrook Plaza
(Pat Catan's Shopping Center)
4321 Whipple Ave NW
Canton, OH 44718
August 10 – 6am through August 11 – 6pm
It's our 10th Anniversary!  Yes, you've been there for us for nine years.  And once again, we need your help!
Our goal this year is to reach $1 Million in cumulative donations!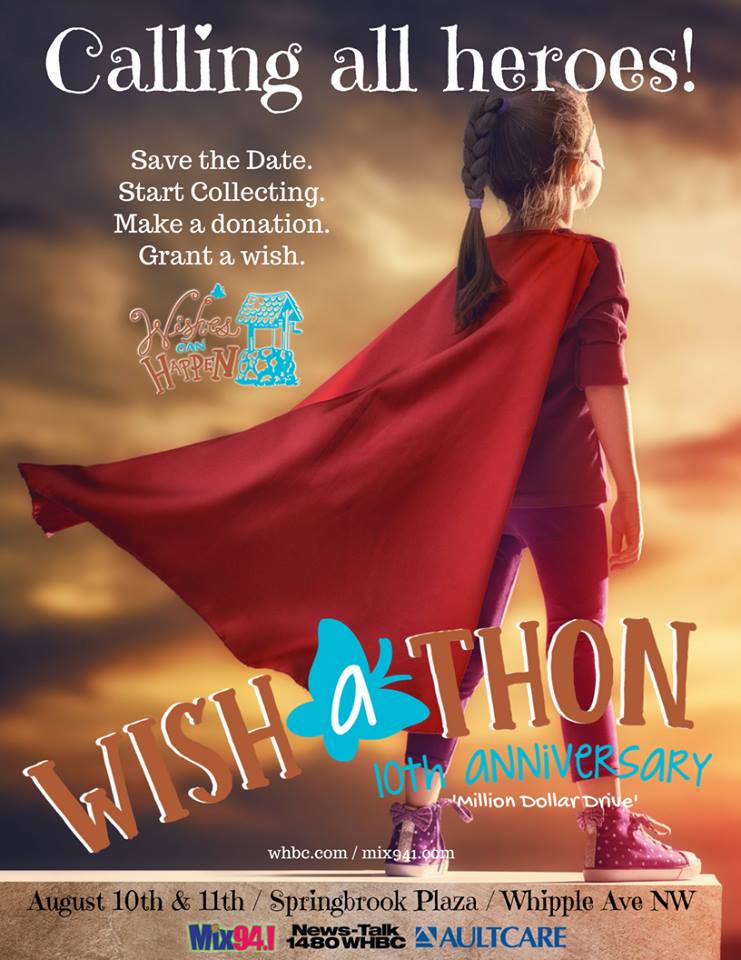 With help from our friends at AultCare, Mix 941 and News-Talk 1480 WHBC broadcast live 6 am Thursday, August 10 through 6 pm Friday, August 11 from Springbrook Plaza on Whipple Avenue NW!  We spend 36 hours straight encouraging listeners from Stark County and beyond to open their hearts and pockets!
Every penny helps!  A wish granted averages about $5000.  And our goal this year is 40 wishes!
SAVE THE DATE!  START COLLECTING! 
Bring your donation to us … and help grant a wish!
If they can wish it, we can make it happen!  Be a hero!
See you August 10th and 11th.
Hosted and sponsored by:
www.whbc.com
www.mix941.com