A few things before I get into this Fusion earbuds review. I'm obsessed with wireless earbuds because I love music and hate wires. It's one of the only ways I can escape as a single Dad to 3 autistic kiddos, especially since Covid. I'm not necessarily an audiophile but I do appreciate good quality sound and know when I hear it. Sound can be very subjective and like beauty, it's in the eye of the beholder, or in this case, the ear of the listener.
The Fusion True Wireless Earbuds
World Wide Stereo sent out a pair of Fusion True Wireless Earbuds by KLH for me to try out and share my thoughts. As an avid Android user, I have never used AirPods and haven't been a huge fan of the design. You either like the Airpods or you don't. KLH has obviously been inspired by the AirPods polarizing design and just went with it.
I have been using these for a couple of weeks now and I have a few thoughts. First of all, they're insanely comfortable and the battery life has been really good. I got between 6 and 7 hours of use from them. I don't normally keep earbuds in for that long but I've been glued to the news lately and I'm addicted to audible.

The Specs
The buds are made of plastic and feel well built but maybe not as premium as say the Sony WF-1000MX3's or the Bose Quiet Comfort Earbuds. It should also be noted that Fusion's lack the premium ANC that is found in both the Sony and Bose earbuds. Instead, the Fusion relies on passive noise blocking, meaning the seal the earbuds make blocks out sound. They do a pretty decent job but it's definitely not ANC.
Sound Quality, Controls, and Connection
As far as sound quality goes, in my personal view, it's really good. Music sounds great and there's surprisingly decent bass as well. Phone calls sound good due to the 4 microphones. I haven't played around with calls a bunch lately but the few times I used these for calls, no one complained. Bluetooth 5 helps to ensure a rock solid connection. I didn't experience any connection drops in my two weeks of use.
There are touch controls on the earbuds so you can physically interact with them. They also boast something called bone voiceprint technology. The Fusion earbuds respond to 9 voice commands without a wake-up word. In other words, you can answer calls, play music, adjust volume and skip tracks by simply speaking out loud. You literally just say pause music or answer call. You don't have to say hey Google or hey Siri.
I had my concerns about this because I could see my kids messing with me by walking into the room and telling the earbuds to skip a track or turn the volume up or down. My kids would totally do that and it would be incredibly annoying. This is where the bone voiceprint technology comes in. The earbuds only respond to the person wearing them. It's not like Google where it relies on voice recognition alone. It has to do with the earbuds recognizing the your voice and jaw moments. It works surprisingly well and it kinda feels a bit like magic. As my kids would say, it's witchcraft. There's a better explanation in the short video below.
The Charging Case
So we've established that these earbuds sound great and utilize some unique technology to enhance the handfree controls. Now let's talk about the case. There are some really good earbuds out there but the case they reside in is horrible. The Bose Quietcomfort Earbuds are a perfect example. They're probably the best wireless earbuds on the market but the case is enormous and isn't easily pocketable.
The Fusion charging case is not a whole lot bigger than the case for the Pixel Beds. It's small enough to easily fit in your pocket and it gives your earbuds an additional 28 hours of charge before needing to be recharged itself.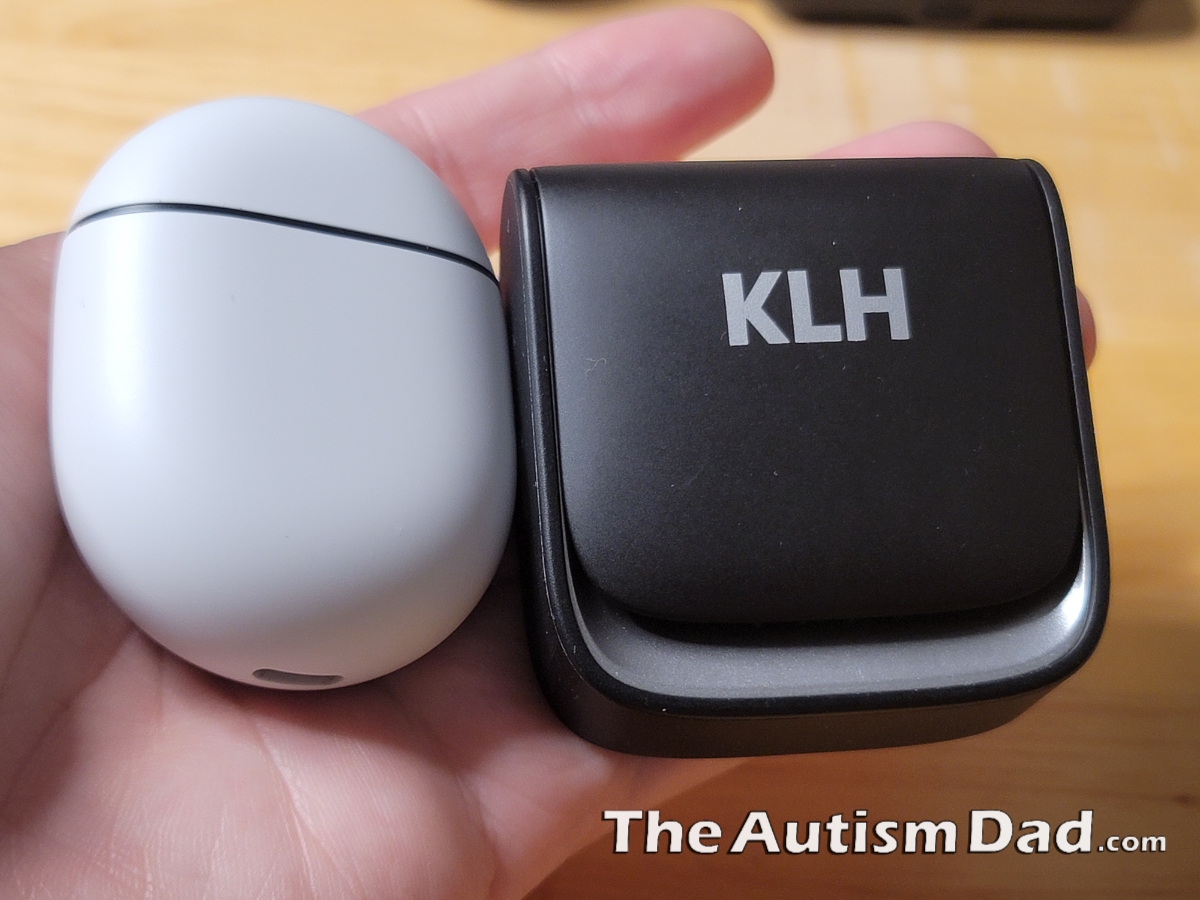 The case has two options when it comes to charging. You can simply plug it in via USB-C or simply place it on your wireless charging pad. I would imagine it charges faster when connected via USB-C but wireless charging is just way to convenient to not use. I have wireless charging pads throughout my house so we can drop our phones onto them for a quick refill when needed. Being able to do the same with my earbuds is a huge plus.
The Fusion eatbuds sound great, have great battery life, impressive voice controls, the case is wireless charging capable and it fits easily into your pocket. Are there any downsides?
The Potential Downside
There are a couple of things that bother me about these and honestly, they could be deal breakers for me personally. I'm also really weird about things like this so you might be totally fine with this.
First of all, there's no companion app. It's not necessarily a huge deal but that also means there's no EQ settings or any settings for that matter. I appreciate the ability to customize my listening experience. Sony does a fantastic job of this and I wish Bose would add an EQ feature in an upcoming update. Speaking of updates, the Fusion don't appear to have upgradable firmware.
Why is a lack of firmware upgrades a problem? I suppose it doesn't have to be but firmware upgrades are how new and improved features can be added later on. Samsung, Sony, Bose, Jaybird, Jabra and Apple all send out periodic firmware updates that improve sound quality, connection stability and add new features. Not being able to do that is a potential deal breaker for some people, myself included. At the same time, if it ain't broke, don't fix it. The Fusion earbuds sound great and if that's what you're after, than they might be perfect for you.
For me personally, I value the ability to upgrade firmware and manage settings via a companion app.
This isn't to say that KLH can't send out firmware upgrades. It's possible to do via a laptop and USB connection. Maybe they will do so that way at some point. Who knows.
The other issue for me is a lack of ANC. ANC is how I'm able to pretend I don't have kids for a little while each day. I can put in my Bose or Sony earbuds and they actively cancel out the noise in my house. When I get really overwhelmed, I rely on this to provide a bit of a break and recharge for my sanity. It's important to me personally. It might not be a huge deal to you though and that's cool.
Pricing and Conclusion
At the end of the day, the Fusion earbuds will set you back $200. That's a good chunk of change. You can get the Sony's for less than that and get ANC, firmware updates, a companion app and EQ settings.
While I do like the Fusion earbuds, it's a tough sell for me. If I'm going to spend $200 on earbuds, I would probably look elsewhere because there are better options for the same price. I could see these doing quite well in $100 – $125 category. I just think the price is too high for what you're getting, especially with so much competition out there.
If you're looking for simple, easy to use, handsfree listening experience, with great sound, advanced voice controls, and fantastic battery life, perhaps the Fusion is a good fit. Ultimately, they aren't for me. I will say that Elliott, my 14 year old has taken them over and feels like they're the greatest earbuds ever. To each their own and I'm sure there are plenty of you out there who would feel the same
If you're interested in checking these out for yourself click the bottom below. ☺