So we got a new dog recently. I hadn't planned on that but I was trying to help someone out and honestly, we've wanted a second dog since Maggie died three years ago. It was one of those things that just kinda happened in the moment and wasn't really thought out. The kids are thrilled and Ruby seems to be happy as well, so it all worked out.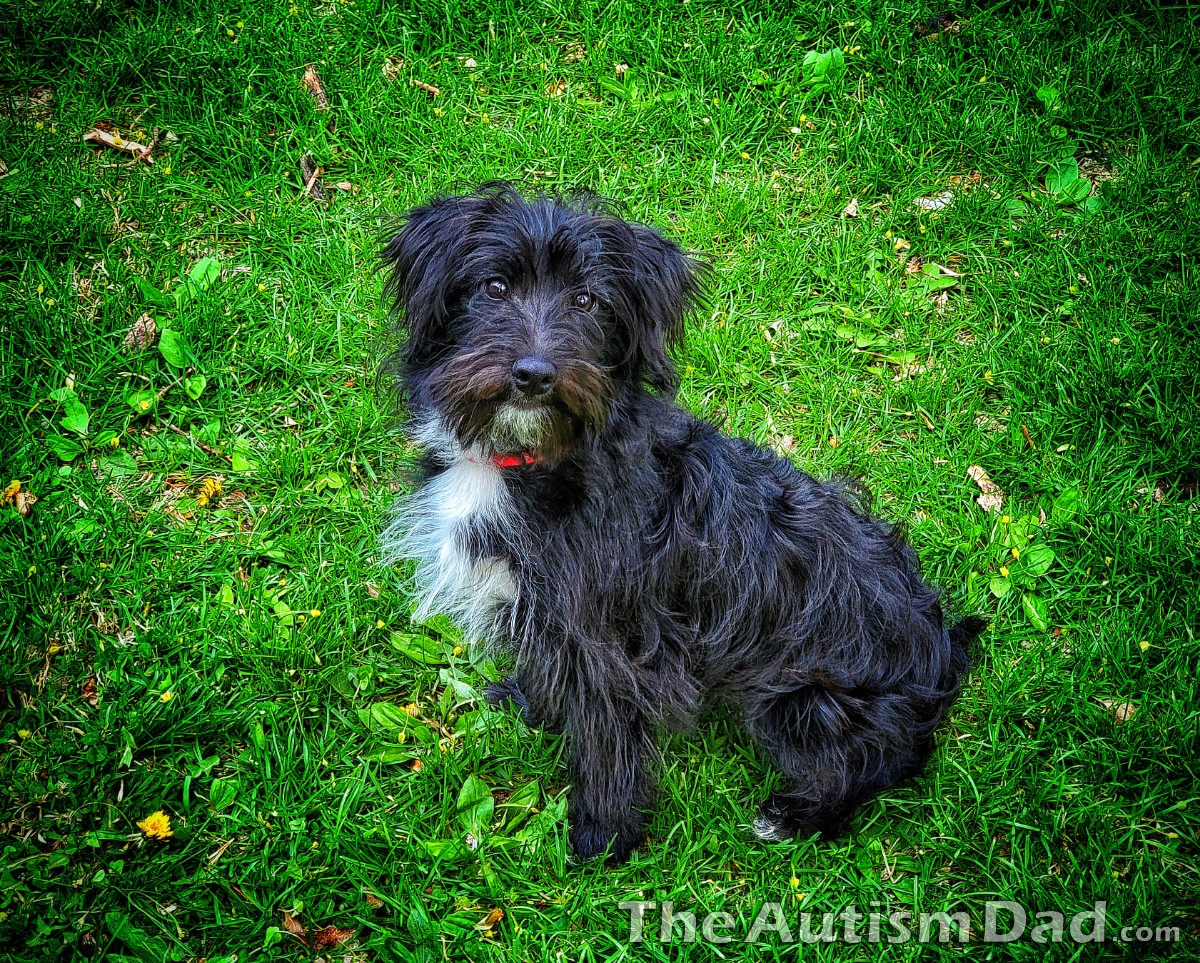 He's a 4 month old Corgipoo and his name was Toby. We're weird about names in our house and if we are going to do this, we're going to do it our way. He needs crate trained and broken of some bad habits but we're making decent progress.
One of the things we decided to do was change his name. He wasn't responding to it anyway and he's so young that it shouldn't be a problem.

I put out a tweet with the above picture and I asked people for name suggestions. There were some amazing suggestions and I really appreciated all of them. Here's where this story gets really amazing.
Hey Twitter family… I need some name ideas for this handsome devil. Currently his name is Toby but we're not feeling it. He's a 4 month old Corgipoo. I think we're okay changing his name. because he doesn't respond to it yet anyway.. #corgipoo #dogsoftwitter #dogs pic.twitter.com/oZ1Yolhm49

— Rob Gorski (@theautismdad) April 23, 2021
I'm friends with Lauren Holly on twitter. Yes, that Lauren Holly and yes, it's really cool. Anyway, she reached out and suggested that we go with something Scottish and made a couple of suggestions. She came back a little bit later and suggested Fergus. I really liked it so I took it to the kids and they fell in love with the name.
They liked it for a couple of reasons. Firstly, it's Scottish and they liked that. Secondly, Fergus is the name of one of their favorite characters from Supernatural. It checked all the boxes for them and if they're happy, I'm happy.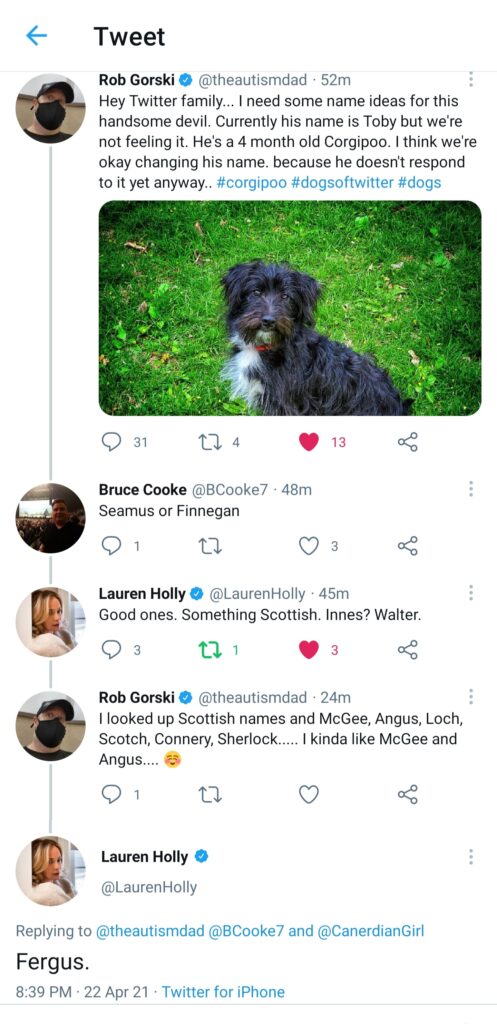 I reached out to Lauren privately to thank her for the name because it's the only name the kids all completely agreed on. OMG, she's so sweet and was excited that the boys chose Fergus. She explained that the name has special meaning to her and after leaning why, it made this whole thing that much more special.
Thank you Lauren for being so cool. I really appreciate the help and for sharing this name with me and the story behind it. Totally made my day and since my kids were happy, it also made my life a bit easier. You're amazing. As simple as this seems, the kids were stressing out a little trying to come up with a name and couldn't agree on anything. That was stressing me out as well. Fergus is absolutely perfect and everyone is happy. That makes me happy.
The kids are kind of oblivious to everything but they do remember her from NCIS and they think it's pretty cool that she helped name our new dog.
When we tell people that his name is Fergus, we have a freaking awesome story to go along with it. I mean how many people out there can actually say that Lauren Holly helped them name their dog? I don't think very many.
Anyway, meet Fergus. ☺