I shared with everyone last night, some of the things that have happened in the last day or so that have me stressed out and overwhelmed. This morning I want to share a couple updates that will help to better put our lives into perspective.
Aside from having to figure out this bully situation with Elliott at school, there was the issues with our checking and PayPal accounts, as well as our car being out of commission.

If you look a few posts back, you'll be able to read all about how the meeting with the school went, how we felt about it and where we go from here. That's pretty much that in regards to school issues for now.
Our car is still out of commission, and almost the entire exhaust system is sitting on my front porch, waiting to be repaired.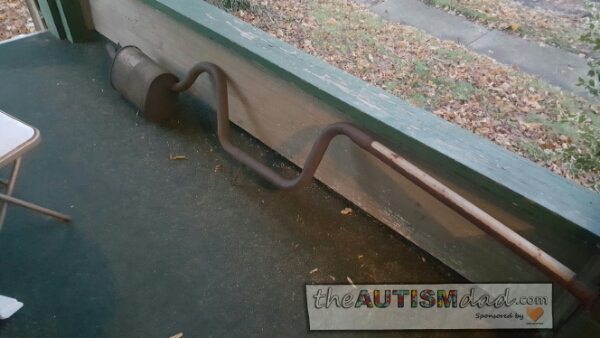 There's a possible chance that we will be able to have the repairs done today at some point but we don't know for sure. Fingers crossed on that one.
Finally, there are the issues with the unauthorized charges on my account. An affidavit was filled out and submitted to PayPal, and I heard back with a request for further information. I'm working on that currently.
Since the charges finally cleared my actual checking account, I was able to file a dispute with my bank. Unfortunately, I have to wait for paperwork to show up, so I can sign it, and they can begin the investigation. I guess it has to be done this way because it was an ACH that came through PayPal but I'm going to visit my local branch as soon as I can drive the car again.
It's a slower process than I'd like but it's a means to an end.
We're pretty much screwed right now because until the paperwork is signed and filed. We won't know if we'll receive a provisional credit until this is processed. For now and probably the next five to seven days, we will be broke as a joke. If we don't get a credit, it will be longer than that.
Groceries are getting low, and Christmas is right around the corner. I'm hoping the paperwork arrives sooner than later so we can get this process started.
We still have stuff we need to get done for Christmas, and that's hard to do without access to the money we should have in our checking.
While most of this sucks, there's a big positive side to this as well.
Things are getting better financially, and the only reason there's a problem right now is because of these charges being higher than the balance that was in my account. Once this is figured out and we move into January, we're looking much better than we have in probably the last decade.
Even though this sucks, I know that it's a temporary problem and that makes it a burden that's a little bit easier to bare.
Times are tough right now and probably will be for the rest of the month but my family is back together for Christmas, and I can't even begin to explain how much that means to me. ☺