Today was really rough for Mr. Gavin. He can't ride in the car for very long at all, without feeling like he's going to have an accident. This is the worst it's ever been, by a long shot.
I was able to get ahold of his prescribing doctor and we are to immediately drop him down to his previous dose, beginning Thursday (tomorrow) morning. This means we are back down to 600mg of Clozapine a day.
We aren't going to stay there though.
After running 600mg for seven days, we will begin to increase by 50mg per week for the next four weeks.
The idea behind this is that perhaps if we bring him back down and then slowly bring him back up, the side effects might not be so bad. I don't personally think this will make any difference whatsoever but at this point in time, it's the only thing we can do.
We will be back to see his doctor within the next two weeks, so we can follow up at that point.
On the other side of things, I got tired of waiting for the Cleveland Clinic to call me back so I called them back this afternoon. Gavin will be seen next week and will undergo some tests on his kidneys. He's also going to have an ultrasound of his bladder done as well. I don't remember what they are doing for his kidneys though..
Actually, as I think about it now, he's getting an x-ray of his bladder and ultrasound of his kidneys.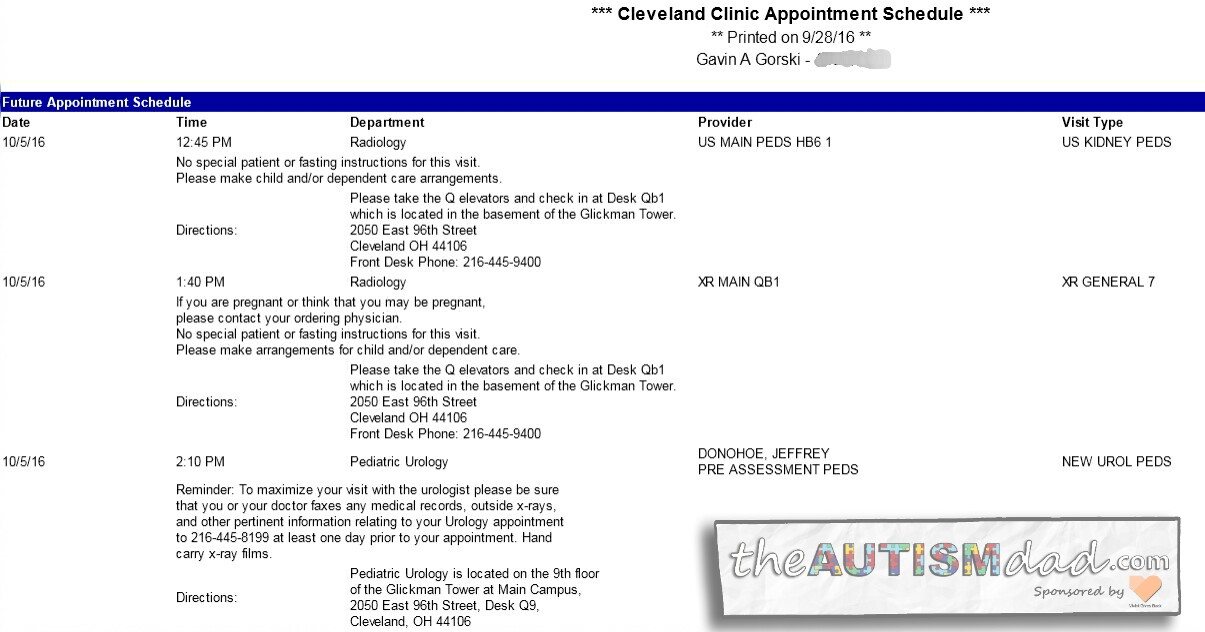 We'll spend most of the afternoon in Cleveland but it's a one stop shop kinda thing.  All the preliminary testing will be done before we see the doctor and find out the results.
This is really a last ditch effort to help relieve Gavin's symptoms.
We know it's not a bladder or kidney infection because those test have always come back negative. It's very doubtful that there is a physical or structural problem causing these issues as well.
The only way to know for sure though is to rule all those things out.
The most likely cause for all this mess is the Clozapine. Unfortunately, if this is indeed the case, we have a major problem on our hands. I don't see there being any good options at that point.
If we take him off the Clozapine, his schizophrenic symptoms will go unmanaged and that will not be a good thing. At the same time, the symptoms may never subside, even if he's off the Clozapine because there's a very good chance that they have become permanent.
My hope is that the Urologist will know something that we don't and can help to manage the symptoms.
Gavin can't go on like this but at the same time, he can't go on with his Schizoaffective Disorder unmanaged as well. 
If we do have to remove the Clozapine, my fear is that things will go very wrong, very fast and he will end up needing to be back in the psych unit. This won't be as easy as just switching medications either because anything else will make his movement disorder significantly worse. Those are the doctors words, not mine.