During therapy tonight, we spoke with Emmett about his tummy aches. He wasn't super forthcoming, which doesn't surprise me. We asked him if anything was bothering him because sometimes that can cause a tummy ache.
The way we word things is critical to communicating with Emmett. He's so incredibly literal, it's very difficult to talk to him sometimes. By sometimes, I really mean most of the time. It's one of the things that makes Emmett, Emmett.
Over the years we've figured out ways to work around these obstacles when we can't work through them.

Unfortunately, if there's even the slightest emotional charge to a conversation, it's often a lost cause. It's becomes a live to fight another day kinda thing.
When we spoke with him tonight, Lizze, myself and Dr. Pattie were very careful with our words. It's pretty clear that he either doesn't know how to tell us what's upsetting him, doesn't know what's upsetting him, or doesn't want to talk about it.
We're pretty sure the tummy aches are anxiety in nature.
It was also pretty clear that Emmett didn't want to talk to us about this because the kid literally taped his mouth shut with scotch tape.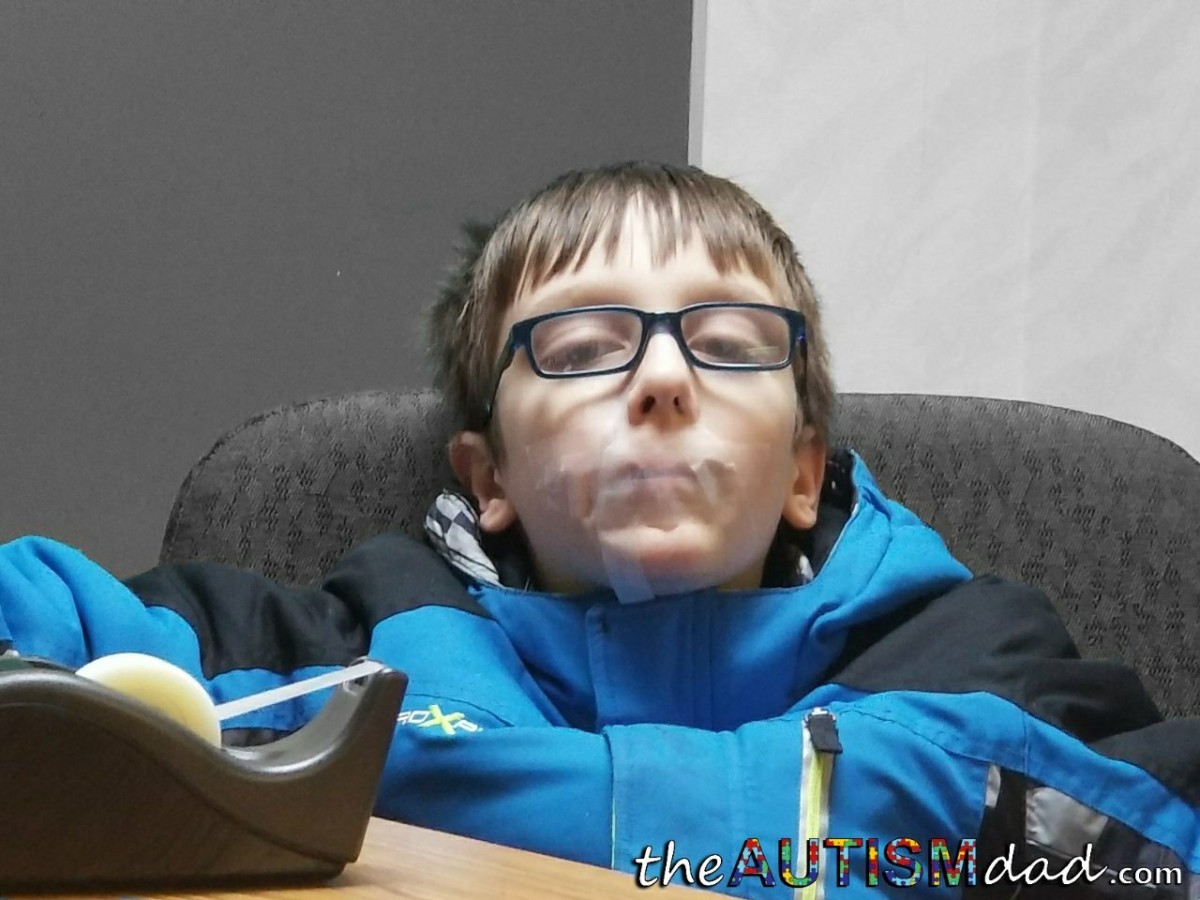 I don't have any idea how school is going to go today because his tummy was upset when he went to bed last night.
I don't think there's anything nefarious going on at school. I think that whatever is bothering him is something he's putting on himself. He's very hard on himself and stresses out over every tiny little thing.
He interprets the instructions for his homework literally and oftentimes that leads to problems. Whatever is going on is likely something along those lines. We know he's not being bullied. His teachers and classmates love him to pieces. He just puts so much pressure on himself and it makes him misersble.
Hopefully things go well today because we have another busy day ahead of us and Emmett not being in school will complicate things quite a bit.
I just want him to be happy. I want him to cut himself some slack, relax and not take life so seriously all the time. I'm not sure that's ever going to happen but I'll keep working with him on it. ☺