I've not talked about this much but I've started working out again. While I really, really want a treadmill, I'm making do with some free weights and a set of BowFlex kettlebells.
There are some serious cardio exercises that can be done with kettlebells.
Anyway, I was feeling pretty good today and so I suggested we go to our favorite outdoor location, Quail Hollow. We didn't have a whole lot of time because the boys had therapy but we got in a short hike.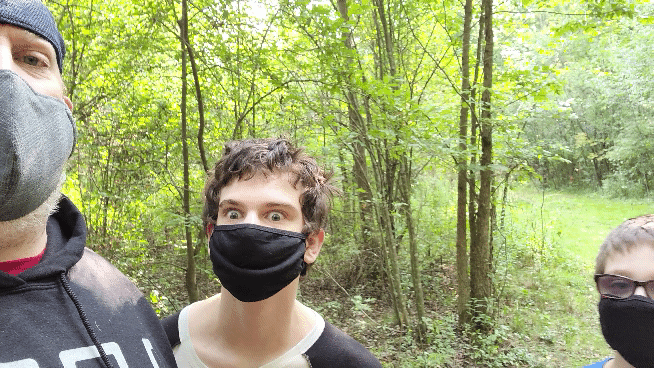 I mean the drive was longer than the hike but the boys got to take some awesome pictures and we found some cool little creatures along the way.
We set out with a goal to looking for things that we don't see all the time. The grasshoppers are like whatever, but we've not seen a wood frog in the wild before and that's was pretty cool.
The boys had therapy via Zoom in the car while we were driving home. That was an interesting experience. You gotta work with what you have.
I spent some time watching the news when we got home and all three of the kids played Minecraft Dungeons together after dinner. It's really nice seeing them doing something together, even if it's a video game. I'm not super picky at the moment.
Before bed, Elliott insisted that we give Ruby a haircut. By we he meant me. That said, he did help and we got Ruby all cleaned up and looking fantastic.
I know that this might not seem like a spectacular day but here's how I see it.
First, Elliott got to school on time and was able to actually sign in with little in the way of technical issues. Second, I was able to teach the kids how to replace the screen on my balcony door. Third, I got my workout in. Forth, we went hiking and didn't run into other humans. Fifth, the boys squeezed in some therapy. Sixth, the kids all played together when we got home. Seventh, Ruby looks beautiful with her new haircut. Eighth, everyone got to bed with little hassle and I even got some writing in. Finally, I survived day 194 of COVID lockdown, without losing my mind.
I feel like this was a productive day and I'm proud of all we accomplished. It's ry important to remember that even the smaller achievements should be celebrated. Focusing on the positive is a boost to morale and your emotional wellbeing.