It's no secret that sensory issues have impacted my kids for years. Clothing has been one of the most challenging for Emmett in particular. Socks have been difficult for him but we can more easily work around him not wearing socks. Unfortunately, there are some items of clothing that we really can't easily go without.
Shirts are currently a struggle. We've been on lockdown for well over 300 days and aside from school, shirts aren't absolutely necessary when we never leave home. The problem with him just not wearing one is that it makes it much harder for to wear them when he needs to.
That brings me to my reason fo writing this post. I was recently introduced to a clothing company called NoNetz.

They sent some sample clothing for the boys to try on to see if they find it comfortable. I'm all about this type of thing because if I can find something that is sensory friendly for Emmett, that's major progress.
NoNetz is a Mother and son clothing business with a sharp focus on being sensory friendly. I like this for a couple of reasons but for the moment, this is about whether or not these clothes are tolerated by my sensory sensitive little minions.
NoNetz sent out a shirt and shorts for each of the kids to try on. Check out the pictures below. The shorts are actually net-less swim trunks, meaning there is no net inside to cause discomfort. They can easily be worn as shorts as well.
The shorts are colorful and the boys like that. Frankly, I wasn't super concerned about the shorts because the boys aren't struggling with pants or shorts. My main concern was the shirts because that is definitely a struggle in our family, especially with Emmett.
Simply put, the shirts are great. They're similar to dry fit shirts that runners wear. This is apparently designed to keep you cool. I can't test that at the moment because there's snow on the ground but I'll definitely be able to get a better idea this summer. For the moment, all that matters to me is that the boys love the shirts and that includes Emmett.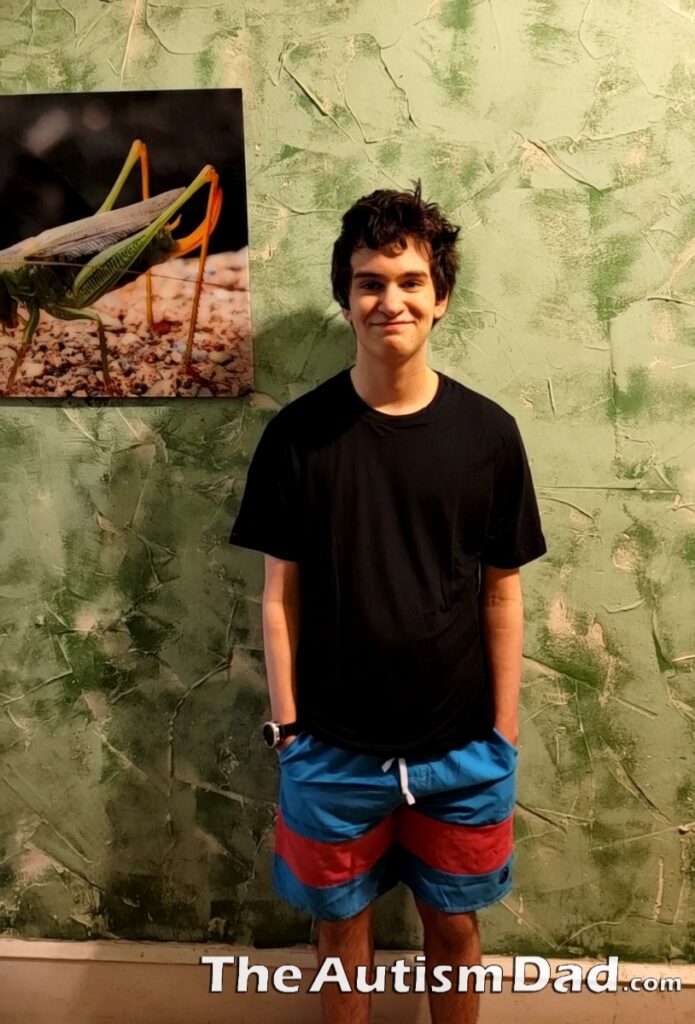 Emmett's only compliant is that there is currently a small tag at the very bottom of the shirt that most people wouldn't even notice because it shouldn't really ever contact the skin. It bothers him and I reported that back to NoNetz and they have told me that the tag will be removed going forward. Emmett thought that was really cool, as did I. It's really nice to have a clothing company that caters to the needs or people with sensory challenges.
They are also planning of introducing new colors as well.
I wish I would have connected with NoNetz a year ago because these clothes would have been perfect for our trip to Florida. I had a heck of a time finding clothes for Emmett prior to leaving for Orlando. He would have totally worn these clothes and that would have saved a me a lot of headache.
My hope is that this helps other families out there find clothes for their sensory sensitive kids. I know how challenging this can be and to find a place that puts a focus on being sensory friendly, isn't incredibly common. Right now they seem focused on shirts and shorts but they are looking to add new items as they find a demand for it. Shirts alone are a huge challenge for many families and just having a place to go for those is amazing. ☺
So check out NoNetz if you're looking for sensory friendly clothing for you or your kiddos.