It's been a day. The kids have not been very cooperative and fighting a great deal more than usual. I'm not sure what's going on but we'll just say it was a somewhat challenging weekend.
One of the issues we're struggling with is the boys get very frustrated with Gavin. They see a grown man on the outside but get frustrated when he doesn't act like an adult. Gavin wants to be treated like he's an adult but very often doesn't act like one and for good reason. Gavin is significantly cognitively delayed and in many areas of his emotional life, he's much closer to a 6 year old level than that of a 21 year old.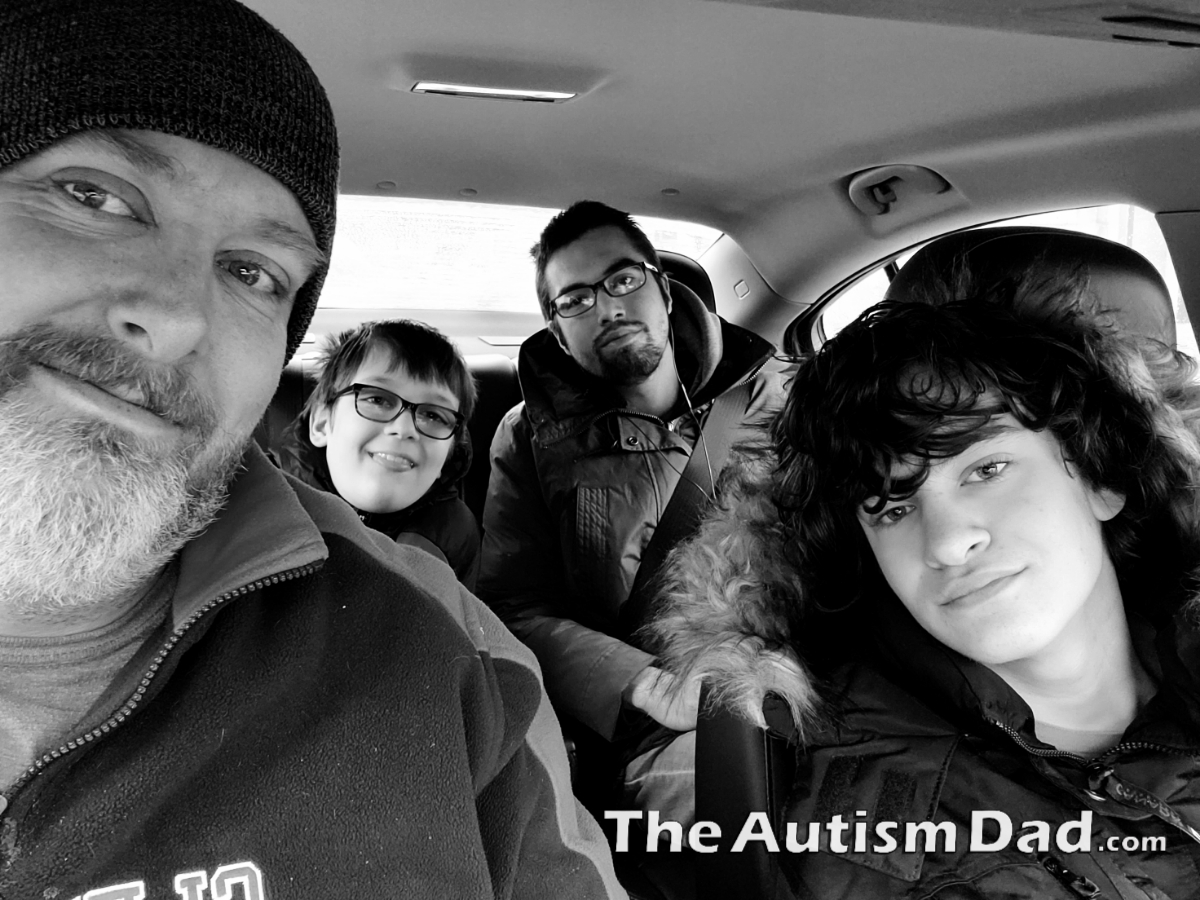 I've known him for 20 years and I can find myself frustrated at times. The boys struggle because Gavin doesn't make a great deal of sense. He gets upset over minor things and doesn't always react the way they would expect him to. This is common for autistic kids but when there is such a profound developmental delay, it makes it more complicated.

One of their sore points is that Gavin eats food that is reserved for them. No matter how many times I talk to him about it, he eventually does it again because he forgets he's not supposed to.
Before someone jumps down my throat, let me explain.
Elliott and Emmett have relatively limited menus. They are sensory oriented and find a great deal of food intolerable for one reason or another. Gavin on the other hand is a human garbage disposal in the sense that he will eat pretty much anything. There are certain things I buy that are reserved for Elliott and Emmett because it's one of the only things they will eat. There are also things I buy specifically for Gavin because I know he likes it.
Gavin has a penchant for eating the food that is reserved for his brothers and that is really frustrating. Sometimes, I catch him and remind him that he's not supposed to be eating that but other times I miss it. I don't think he's doing this on purpose. I believe he often forgets and eats it because he likes it also.
I had to address this several times over the weekend because Gavin was eating Elliott's Ramon noodles again. Elliott only eats one specific brand of Ramon and they have been harder to find since COVID. I buy Gavin Campbell's Chicken Noodle soup. When he goes through all of his soup, he moves on to the Ramon and that causes a problem.
There are literally dozens of options for Gavin and yet he keeps going for the handful of things the boys eat because he keeps forgetting.
Notes don't work because he doesn't always pay attention to his surroundings and therefore misses the notes, even if they're literally right in front of him. One thing I've thought about was actually creating a physical menu for Gavin to pick from each day. If it's not on the menu, it's unavailable. I need to put that together and give it a try. I've just not done it yet. I'm tired and overwhelmed. It's one of the many areas of my life where I'm dropping the ball. I'm sorta triaging a bit right now and that never seems to make the cut. I really need to just get that done because it might help to eliminate the problem.
It's a pretty simple solution to an ongoing problem. Any relief from problems that are within my power to solve, should become an obvious priority.
It's important to note as well that Elliott and Emmett are not always victims here. They dish it out to Gavin as well and I get on them about that also.
Some of this is autism related because of certain triggers, perceptions and developmental issues. At the same time, some of it is brothers being brothers. Autism or not, kids will be kids and brothers with be brothers. On Gavin's end, much of this is related to his developmental status but there are times he simply makes a bad choice, just like anyone else. Elliott and Emmett are the sorta the opposite. Sometimes they're reactions are autism related and others, it's the reaction of a frustrated kid. There can also be overlap as well.
Navigating what is what can be a daunting task but the way I see it, these are teaching moments. If we can learn something instead of just being frustrated, that's a positive thing. As always, our lives are a constant work in progress but we're making progress and I'm for that, I'm grateful.