It was a really fun day. It was super busy and I had multiple meetings but it was a good day. Things are definitely looking up for us here in The Autism Dad household and I'm so grateful for that.
The boys got off to school without a problem and in between meetings, Gavin and I spoke about his new found love of baking. He informed me the other day that he finds baking to be relaxing. As he's been stressed out a bit more lately with all the transitional changes in his life, he's been baking a lot more.
The other day, someone sent me a recipe for Gavin to try and after discussing it, Gavin wanted to give it a go.

He and I went to Giant Eagle to get the ingredients and I really tried to let him take the lead on this. He found everything he needed and when I was ready to leave, Gavin was the one who remembered that we forgot the butter.
I'm trying very hard to let him do more and more on his own. I'm definitely an overprotective parent, at least I can be. and this is especially true with Gavin. I have to learn that we both play a roll in his transition to adulthood. His job is to become more independent and my job is to take a step back and let him.
Anyway, the recipe was for a three ingredient dump cake. It's pretty straightforward but it's also a deviation from what Gavin was used to doing and that made him nervous.
I made sure Gavin was comfortable and didn't need or want any help before I let him do his thing. Some one needed to keep an eye on him while he was using the stove but that's not a problem.
I had to run out to the store before Gavin had finished the cake, so the boys kept an eye on the oven. When I arrived home, Gavin was a little upset and needed some time to collect himself. Emmett explained that when Gavin was making the cake, he didn't spread the butter evenly and so it wasn't turning out the way it was supposed to.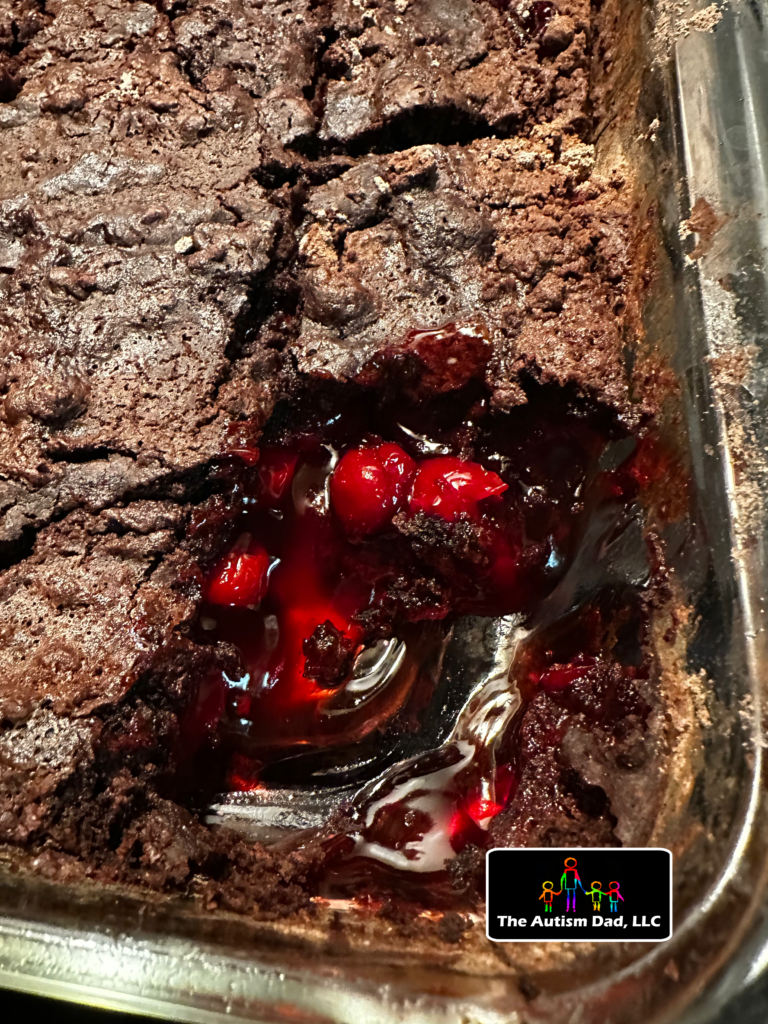 Instead of Emmett just taking over, as he's known to do, he helped Gavin come up with a solution instead. That was so amazing to hear. Gavin was upset because he felt he made a mistake and he doesn't like making mistakes.
We ultimately worked through everything and Emmett was such a big help to his oldest brother. I couldn't be any prouder of them.
Typically, these guys are always at each others throats, or at least it feels that way, but that's how brothers are.
This warmed my heart and made me feel so good. I know it's just baking a cake but it's building Gavin's confidence, teaching him some life skills, and for a little while, it brought him and Emmett together.
I'm so proud of both of them. The finished product was delicious. Unfortunately, I did forget the ice cream but it was still really good. To me the cake is awesome but the best part was the two of them working together and not fighting.
I really appreciate all the love and support being shown Gavin. It really makes him feel good to see all of the positive things everyone is saying about him. Maybe baking is a potential career path for him but for now it's a hobby that helps him manage his stress. Either way, it's a win in my book