Something extremely important to remember but all too often forgotten is that Autism is called a spectrum disorder for a reason.
Autism is a profoundly dynamic human condition that impacts those touched and their families in vastly different ways.
There's no disputing this scientific, medical and observational fact.

This means that person A can be diagnosed with Autism and attend class with neurotypical peers in a public school system setting.
Person A's family struggles at times with Autism related behaviors and life can be challenging but overall, it's a manageable situation.
Person B can be diagnosed with Autism and require highly specialized interventions at both home and school.
Person B's family struggles daily with behavioral management and various safety issues, both for them and their child. This family may often times be struggling to simply make it through the day.
This is just meant to demonstrate a point.
Profoundly dynamic basically means that every person different.  In this case, every person diagnosed with Autism can and often will present differently. It means that every family touched by Autism, can and often will be impacted differently as well.
Why is this so important to remember?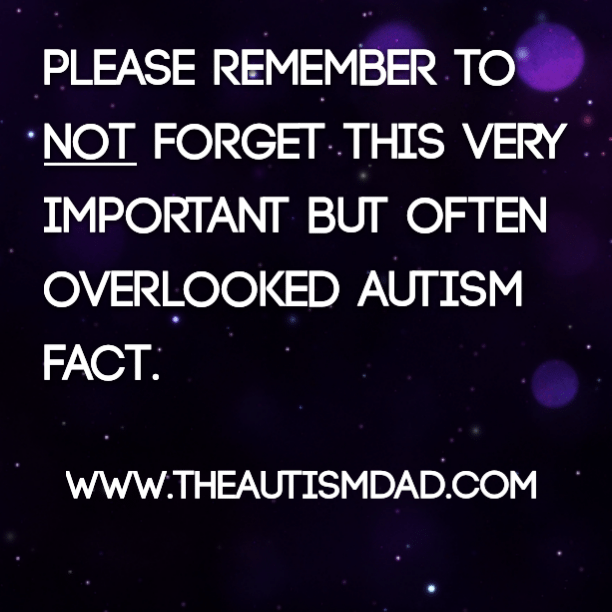 It's important because all too often, people make assumptions that are based on their limited personal experience.
This isn't necessarily mean spirited but it is very often inaccurate and always unfair.
We must remember that everyone's situation is likely to be unique and different from our own. Assuming anything when it comes to Autism is not only dangerous but irresponsible as well.
Please remember to not forget this very important but often overlooked Autism fact.
This site is managed almost exclusively from my Samsung Galaxy Note 5. Please forgive any typos as auto-correct HATES me. 😉
Please remember to visit my Sponsors, Like, Tweet and Share my posts on your favorite social media outlets.
I can't do this without your help. So, if you like what I'm doing, PLEASE consider supporting my efforts. Click here to find ways you can help for FREE.