In the spirit of brutal honesty, I need to let you know that the server fee's did not get paid by the deadline. The sites just didn't generate enough to cover the fee's this month.
I will likely remain online for the next couple of days but I'm locked out of the server until the fees are paid.
I'll do my best to figure something out but I can't make any promises.

If you are among the thousands and thousands who both appreciate and rely on The Autism Dad Blog or The My Autism Help Forums, it's so important to support us throughout the month.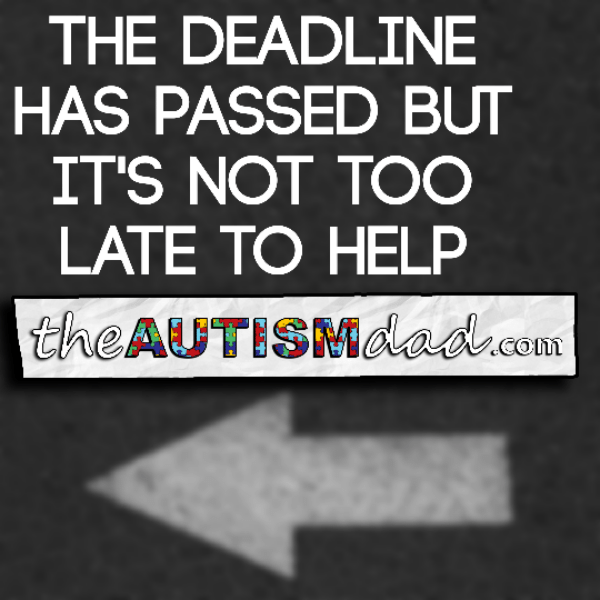 The easiest way to help is by sharing my posts on social media and by visiting my sponsors, via their ads that are sprinkled throughout the site. This will cost you nothing more than a minute of your time.  You can do this every time you visit and it will make a huge impact.
The other way to help is by directly donating to the sites PayPal account, where the server fee's are drafted from.  You can do that by simply clicking here.
I get tens of thousands of visitors each month, from all around the world. If even a small percentage of these visitors took a second and helped in one of the ways described above, this site would be self-sustaining and even be able to grow.
Please keep that in mind.
I'm so grateful for everyone who has supported my efforts and I ask that you please continue to help out the cause. If there's any doubt about the impact I'm having on the Autism community, please take a second and visit my testimonials page… These are just a small fraction of the positive comments I receive from my readers.
Thank you all for everything and know that I will do my very best to make this work but it's not too late to help.  In the past, even though the account has expired, I've had a few days beyond that expiration to come up with the fee's.
I'm not giving up hope…  ☺