Sometimes it's hard for me to write. This is the case for a number of reasons.  Depression,  exhaustion, life and a few other things, all have a role but I thought I would spend some time today, playing catch-up.
While I try to share as much as I can in regards to our life, there are way more things that go on that just never make it to the blog.
There's not a reason for this it just sorta happens.

I get questions all the time about things that people have been waiting to hear updates about and I'm finally in a place to sit down and get everyone caught up on some of the things I haven't talked about in awhile.
Maggie
You may recall that shortly before school let out for the summer, Maggie was playing with Gavin in the yard and ended up hurting her leg pretty bad.
It turned out to be a completely severed ACL and there was no way we could provide her with the $6,000+ surgery she would need to fix it.  The last time I spoke about this, I talked about how we were told to keep her in her kennel for about two weeks.
The two weeks came and went.  It did seem to help because she was physically able to put weight in her leg again but it didn't take her long to overdue it and lose the progress that was made.
Thankfully, because the ACL was completely severed, there is no pain and she's not suffering in any way.  This permanent injury doesn't seem to slow her down much but she does tuck her leg up when she runs.
She actually caught an adult rabbit the other day, so this definitely doesn't slow her down.  Don't worry about the rabbit. Maggie just held it down and licked it.  The rabbit was covered in Maggie slobber but never injured.
My war on Depression 
I've often shared with my readers and the world, my experience with Depression.  It's been a long time since I've talked about it, so I thought I would include that here.
Depression is a tricky thing.  It's not something you can see just by looking at me but it very much impacts a large part of my life.
Some of the things that I have experienced as a result of being depressed are exhaustion (which would be there anyway), lack of motivation, inability to focus on the positive, sleep disturbances (if I actually get a chance to sleep), weight gain, loss of interest in things I used to enjoy doing and a very difficult time writing.
There were some changes made to my medications within the last few months.  Every day is still a challenge and I really have to force myself to keep moving forward at times.
That being said, I feel like I'm doing pretty well.  Having my family whole again has helped a great deal but so have the meds and therapy
It's a work in progress but I'm still here and we're still moving forward. Giving up just isn't an option…
The Ferrets
I get a lot of questions about the ferrets and I thought I would let you all know how they're doing.
In short, the ferrets are doing awesome.  Both Lemme and Fat Tiny have turned a year old this summer.  Zane will be a year old right before Christmas.
All the ferrets are happy and healthy.  They love running around the house and playing with the boys.
They were actually part of our recent filming and photo shoot.  I can't wait to get the pictures back from the shoot because there were some awesome pictures taken of the ferrets and the ferrets playing with the boys.
Our House/Neighborhood 
This is probably one of the most common questions I receive.  People want to know if we've been able to move away from our neighborhood.
The answer to that is unfortunately, we haven't been able to move and probably won't be able to anytime soon. While we don't spend a great deal of time outside, the neighborhood has been relatively quiet lately.
The last big issue was the massive street brawl about two weeks ago.
Our house is safer as the result of our security and home automation, provided by Vivint.  It doesn't bullet proof the house but it does help us to keep track of the kids, keep intruders out and monitor the things that go on outside the house.  It helps the kids feel safer as well and that somewhat limits the anxiety.
We have some pretty awesome neighbors but the bad ones are really bad. The gangs, drug dealers and prostitutes in the surrounding areas use our neighborhood as pass through and sometimes things happen as a result.
I'm hoping to someday move but at this point, we have to make the best of what we have and be grateful for what we have because there  are people out there without a roof over their head.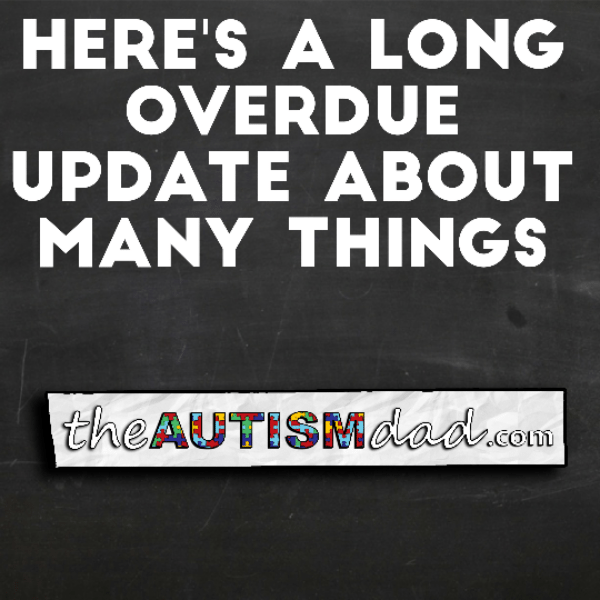 Am I still working on Guardian Locate? 
The answer is yes, I am. This is a massive project and its taken a very long time to get here. We are currently preparing to launch our pilot program with a few families, prior to our launch.
I truly believe that Guardian Locate is going to save lives. The things at stake here are significant and so we are making sure that everything works the way we want it to.
So yes, this project is very much alive and well.
How Gavin is doing since Lizze moved home?
This is something that probably needs some clarification because there are some assumptions being made and some general confusion.
Gavin and Lizze get along so well now.  There aren't any of the issues that we used to face with him. The current dynamic is a very positive and healthy one.
Is Lizze moving home the cause of Gavin's psychotic break? 
This is a really, really popular question, to which the answer is very complicated.
The reality is that Gavin will have these psychotic breaks throughout his life.  It's always been that way and will always be that way as well.  Stress and anxiety can trigger these episodes but there's also a natural cycle as well.
While Lizze moving home may have contributed to Gavin's stress, as a result of the physical change in his life, she is certainly not the cause.
This episode has been coming on for awhile now and it was only a matter of time before it happened.  The timing is more coincidence than anything else. This would have happened with or without Lizze moving home.  It's just part of who Gavin is and the nature of this condition.
What's the deal with all the posts about Vivint? 
That's a good question and one I'm all too happy to address.  Vivint Gives Back and I are working together to provide families of special needs children, access to technology that will help prevent wandering, provide peace of mind and make their home a safe place.
There is no catch to this and I wouldn't put my name on this if I didn't truly believe in what the project can do for the Autism community.
You can find out more information about my involvement, by clicking here. You can also see the pictures from the filming and photo shoot, when the Vivint Gives Back team flew out from Utah and spent the day with my family but clicking here.
Life in general
Lastly, I thought I would just talk about life in general.
Life is very physically, financially and emotionally challenging.  I don't know if that's something that will ever change. Financially, things should improve as some of the projects I'm working on, finally begin to be of benefit in that area.
Physically and emotionally, things are probably always going to be tough here.  Autism and the other health issues we face daily, aren't easy things to manage.
These things aren't likely to get any easier and in some cases, maybe even more difficult, can you say puberty. That said,  we will hopefully continue to grow stronger as we continue to forge a path forward.
This pretty much sums up all the things that needed to be updated. Please let me know if there's something I clarify or if there's something I let out and you would like to know about.  ☺️