I've tried to be as transparent as possible during the almost two years my wife and I were separated. I focused on my personal struggle with the monumental loss, as well as how the boys and I were managing on our own, with me as a single Dad.
I wanted to try and set a positive example of how to make sure the kids come first, despite my personal feelings.
When my wife and I reconciled about four months ago, I began sharing that journey as well because it's not easy to move past something going like that but we did it.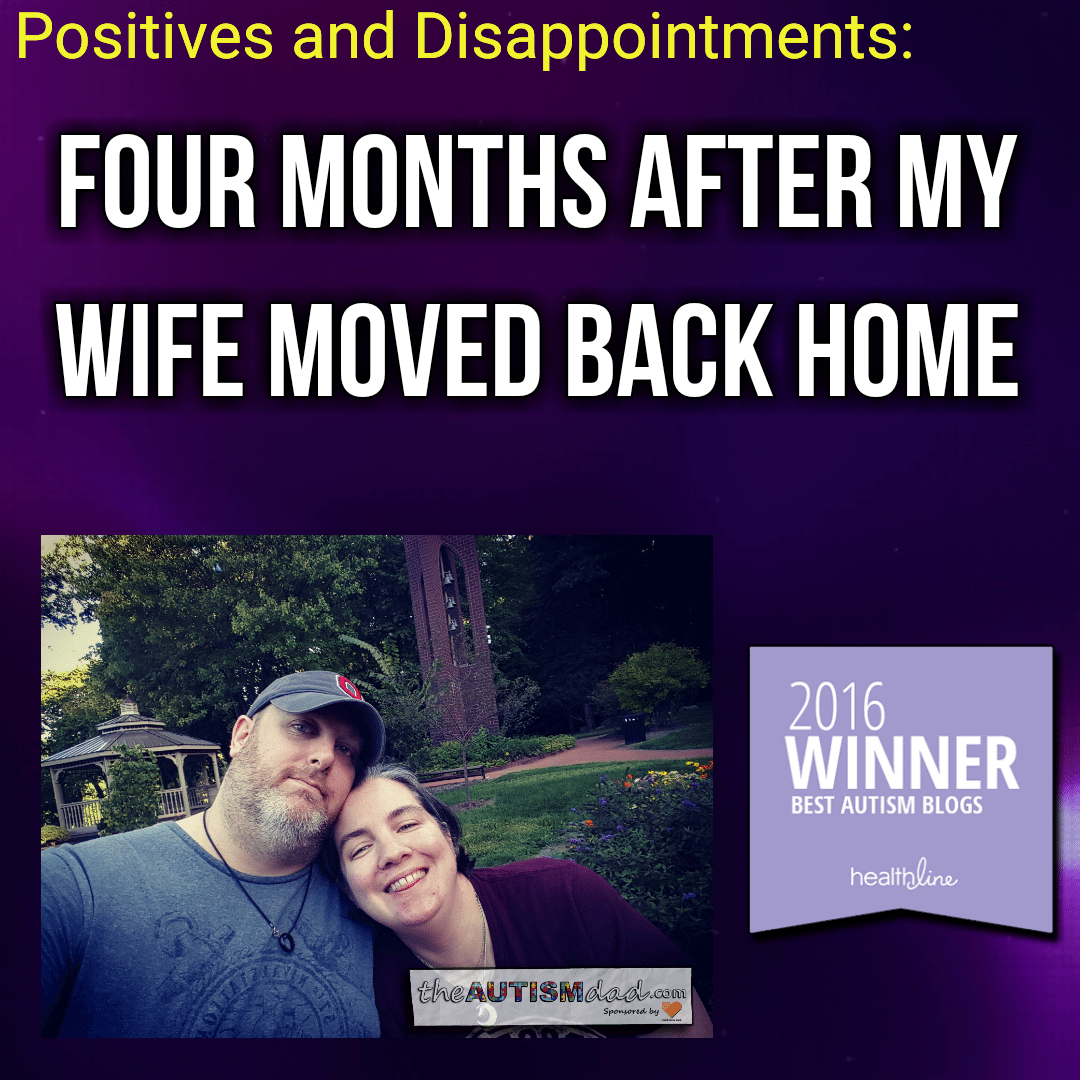 As we approach our fourth month back together, I want to take this opportunity to sorta share how things are going. There's a great deal of positive but there's also some struggle as well and I feel it's important to understand these things.
I feel like things at home are going as well as they can. Lizze and I are great. Lizze and the boys are great. Lizze and Gavin are doing so well, they deserve their own sentence.
All these things are very positive.
There are still some transitional things we're working on. For example, the boys come to me by default.  It's what they're used to doing and I'm reminding them that they need to go to Lizze as well.  Kids on the Autism Spectrum get stuck in these routines and patterns and while they're so happy their Mom's moved home, they still follow the patterns that they're used to.
It's not personal in any way. It's simply habit.
Lizze and I have learned from our many mistakes and are making a significant effort to take care of ourselves. It's so easy to get lost in the boys, we forget to focus on our own needs.
We are doing weekly date nights and while it's a poor man's date night, it works for us. It's usually Netflix and cheap pizza or maybe ice cream from the corner Walgreens.
The whole point is that we put the world aside for a the evening and spend time together.  It does make a difference.  ☺
While we had to cancel our first marriage counseling session last week because Emmett shoved q-tips into his ears and had to go to the doctors, we are rescheduling everything now.
I think the toughest part is also the part that shouldn't matter but it does and that's family.