Earlier today, Lizze and I were catching up on the show Elementary. In this particular episode, they were trying to solve a murder that involved snake venom.
The victims were bleeding from their eyes before they died.
Gavin steped into the room as this happened and freaked out before walking back out. I didn't really think anything of it because Gavin freaks out over things like this all the time. He simply leaves the room and comes back later on. No big deal.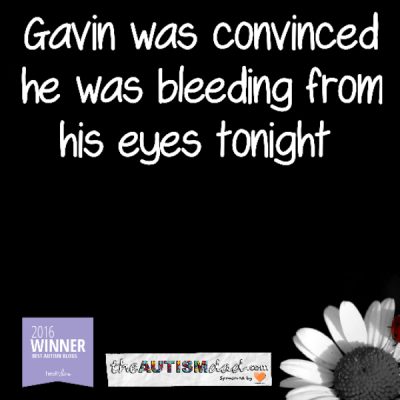 Nothing else was said about this the rest of the day, until about an hour after bedtime.
Gavin came downstairs, convinced he was bleeding from his eyes. He said that every time he closed his eyes, it felt like they were bleeding… This was pretty strange and it took a bit of convincing him that he wasn't bleeding from his eyes.
He wasn't sleeping or anything like that. In fact, this whole thing was keeping him awake.
Thankfully, he did eventually fall asleep and we haven't heard anymore about this but I'll tell you what, this kid was seriously convinced that he was bleeding from his eyes. It was a weird experience for all of us.
Thankfully, we see Dr. Reynolds in the morning and we can run this by him.