The Huggaroo Pouch Compression Sheet
It's not very often that I stumble across a product that I feel is important enough to bring to the attention of autism parents. Mightier has been the big one due to its profoundly positive impact on families. It's been a little while since I've brought you something that I truly feel you need to see. I recently came across something called Huggaroo Pouch. The Huggaroo Pouch is a very affordable, high-quality compression sheet and an absolutely amazing alternative to more expensive, heavy weighted blankets.
Huggaroo has tons of amazing sensory products that you should totally check out if you're in need of sensory products.

What are compression sheets?
Compression sheets are used to provide deep pressure stimulus. Sensory processing disorder is very common in autistic kids. Deep pressure stimulus has proven to be very calming, comforting, and therapeutic for kiddos dealing with SPD. Many with SPD can find relief with a weighted blanket for that reason. The downside to weighted blankets is price, weight and they trap body heat, making your child uncomfortably warm. Compression sheets have several advantages to weighted blankets and I'll discuss those advantages in a minute.
Both a weighted blanket and compression sheet serve the same general purpose, but they do it in different ways. The advantages to compression sheets, however, make them a more desirable option.
The Huggaroo Pouch provides deep pressure stimulus without the heavy weight or steep price of a weighted blanket. The lightweight, breathable material is super stretchy and provides calming, fun, tactile feedback as enthusiastically demonstrated by Emmett below. This is very soothing for kids with SPD, ADHD, OCD, anxiety, and autism.
Speaking of Emmett, he absolutely loves this thing. He's not slept in his own bed for almost a year due mainly to struggles with anxiety. We recently installed the Huggaroo Pouch for this review and he's now sleeping in his bed again. I've no idea how long that's going to last but it's giving me hope. He's not even moving to my room in the middle of the night because he's sleeping straight through till morning. The Huggaroo Pouch basically hugs him to his mattress and that's a very comforting sensation for him. He likes the soft, silky texture of the material itself as well.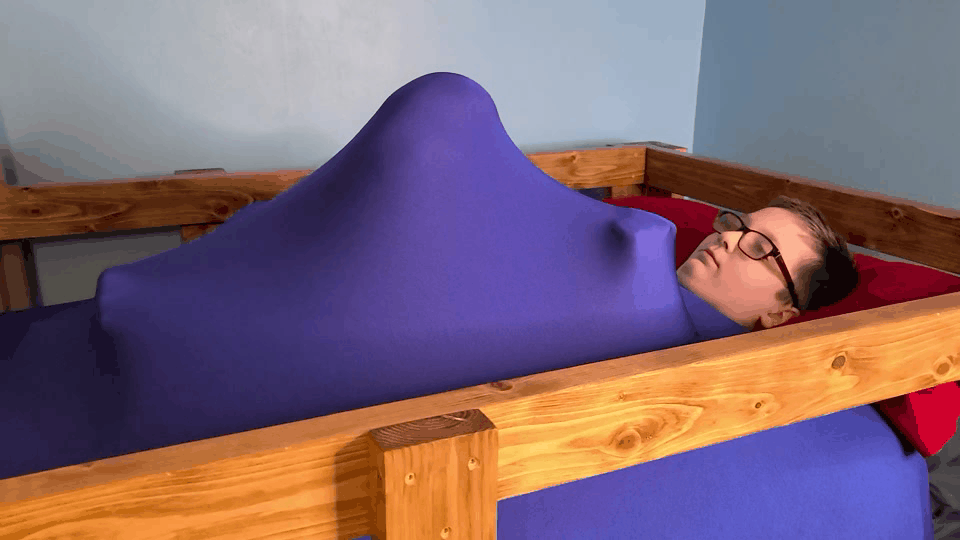 It's not like he's trapped but it provides him with a sense of security. The pressure is evenly distributed and when he gets a little anxious, he can sorta kick and stretch underneath it for extra feedback. He's not currently using a blanket with it either because he doesn't want to. I keep a blanket at the foot of his bed anyway because it makes me feel better.
Huggaroo states that "the special fabric of the Huggaroo Pouch can be stretched a great deal over and over again without losing its elasticity. Our unique fabric will keep returning to its original shape." After only a few days of use, and what I would consider intentional abuse, it's not losing any of its elasticity at all. Emmett seems to enjoy climbing into his bed, burrowing under the Huggaroo Pouch and sorta flopping around. He kicks and stretches because he's getting some desperately needed sensory input. It's important to note as well that this is a very safe, healthy way of getting that sensory input. Parents of sensory seekers know that their kids can seek sensory input in not so safe ways.
I have one for Elliott as well because he's interested in trying it out. Gavin wants nothing to do with it because he says he's not a little kid.
Installing the Huggaroo Pouch
Installing this was a bit of a pain for me simply because Emmett's mattress is on the top bunk. I had to pull his mattress off, stand it up on end and pull the Huggaroo Pouch down around the mattress. They describe it as like putting a sock on and they aren't wrong. It's just putting a very big sock on a very big foot.
In all seriousness, the Huggaroo installs very easily, stays in place without any problems, and is just as easy to remove when you need to wash it. Huggaroo is machine washable and I imagine you could just get into the routine of washing it when you wash your child's bedclothes. It doesn't require any special maintenance, which is good because my plate is already too full as it is.
Conclusion and Costs
I'm absolutely loving the Huggaroo Pouch for a few reasons. Firstly, Emmett loves it and that's important. Secondly, it's a fantastic alternative to heavy, more expensive weighted blankets. Emmett loves his weighted blankets but the problem has been that he tosses and turns all night, and the blanket would end up on the floor. If it managed to stay on his bed, he would overheat. The Huggaroo Pouch is providing him the same benefits as his weighted blanket without these issues.
Thirdly, the Huggaroo Pouch isn't very expensive. We tested the twin size and that costs just under $35. They have a couple of different sizes, including a queen size for you grownups out there. I'd love to see them put out a king-size because I'd totally try that out for myself.
The bottomline is that the Huggaroo Pouch is a fantastic sensory tool for any kid, especially those with SPD, ADHD, OCD, anxiety, and/or autism. It's not very expensive, comes with a 1-year warranty and a 30 day, no questions asked return window. You really can't go wrong here.
If you're interested in checking this out for yourself, click here.
As always, I like to be transparent and honest. Please remember that if you use a link on this site to purchase a product or service, I may receive a commission.