I know not everyone will get this and that's okay. I also know that many of you will celebrate with me because you understand the significance of what I'm about to say. For those who are unable to relate, I hope this provides a bit of insight into the challenges kids on the autism spectrum can deal with on the daily.
Mr. Emmett is a character. There's no two ways about it. He's so full of personality and life that frankly, it can be a bit overwhelming for me at times.
He has an infectious smile and a belly laugh that will melt your heart.

At just 12 years old, he's one of the smartest people I've ever met in my life. We're talking scary smart. Like, as his Dad, I work hard to make sure he uses his powers for good, kinda smart.
People see this side of him and fail to see that there's way more to him than just his intelligence and personality.
Emmett is autistic and while he's incredibly high functioning, he struggles in many aspects of his life. I often find myself so distracted by his intellect, that even I sometimes forget he struggles emotionally. He struggles quite a bit with emotions and while he's come a long way, due in part to using Mightier, he's also worked very hard over the years to get where he is.
Another major area where he struggles is sensory processing. Sensory processing disorder basically defines problems that he has interpreting, filtering and coping with many forms of sensory input. It's incredibly disruptive, distressing, and even painful for him.
One of the most common challenges kids like Emmett face is simply wearing clothes. The texture, weight, and even inconsistencies in the material cause high levels of discomfort and distress, to the point where many kids, including Emmett, refuse to wear clothes or will only wear a certain type of clothing.
In Emmett's case, he struggles with shirts, shoes and socks. He doesn't like pants but he wears shorts. As he's gotten older, he's tolerates shoes and socks when needed. He will wear shirts when absolutely necessary but most of his life is spent shirtless and barefoot.
COVID lockdown has presented many problems and one of those problems is a need to buy clothing for Emmett without him being able to try it on first. This leads us to my Monday morning parenting victory.
A few weeks back, I took a chance and ordered Emmett a new shirt, not having a clue as to whether he would tolerate it or not. Normally, we'd spend hours at the store testing clothing to make sure it felt okay to him. Since we don't really leave the house, that's not an option.
I ordered him this shirt a few weeks back and he tried it on for a minute and took it back off. I've not seen it since. I figured I woild just add that to the long list of failed attempts to find him shirts he will wear.
This morning I went to let the dog out and when I came back into my room, this is what I found. I was slightly annoyed that Emmett had taken over my bed for remote learning, without asking but we'll work on that. Rather than focus on the negative, I was immediately drawn to something else. Emmett was wearing his new shirt.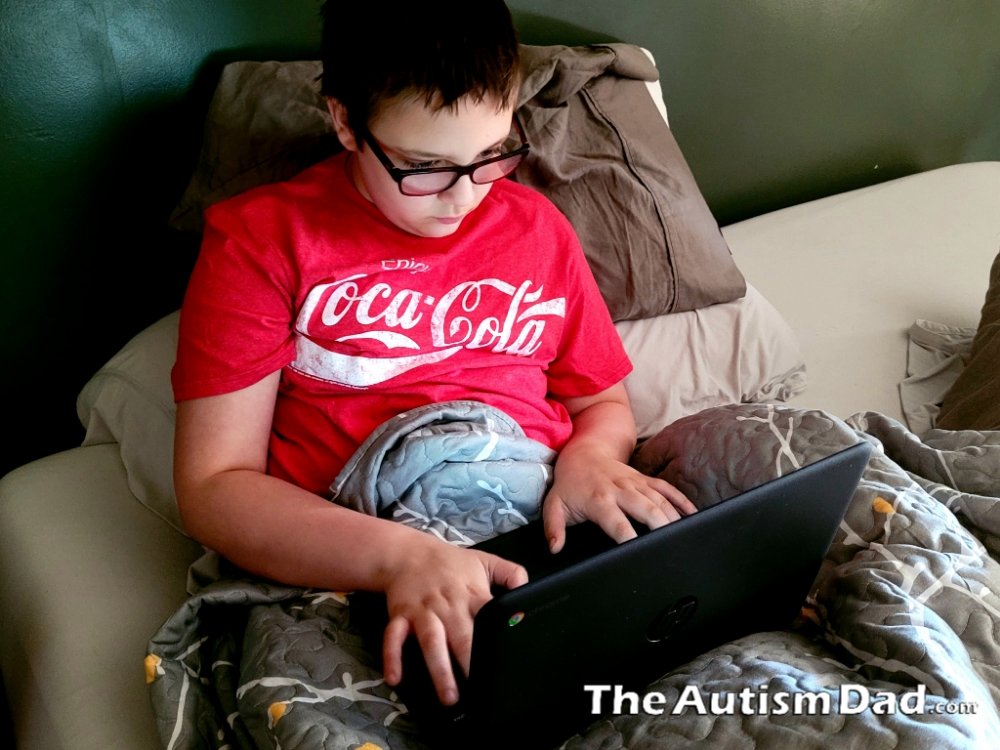 I mean, I was floored. I can't express how happy and proud this makes me. I'm hopeful that I can begin to by him new clothes because I now have at least a direction to go in with shirts.
I fully realize I may have just jinxed this whole thing by saying something but fuck it, this is too awesome not to celebrate. I took a picture to prove it happened and to remind myself that we are managing to find our way, even during these difficult times.