My kids are absolutely amazing. I love them completely and without condition. They've all come such a long way and I couldn't be prouder of them. That doesn't mean we are without our challenges.
As the only neurotypical person in my house, I can sometimes feel like an outsider. The irony there is that many autistic people, including my kids, can feel like outsiders everywhere else. That hasn't escaped me and it provides me some insight into what my kids might go through outside of our home.
I sometimes have a difficult time understanding what's going on with my kids. I might feel like something is wrong because I misinterpret their nonverbal queues. I can read other neurotypical people like a book but slap in a bit of neurodiversity and it's no longer that simple. It's frustrating and even a bit scary for me because I don't always know what they're feeling. Are they quiet because somethings wrong or are they quiet because everything is okay and they're just in need of the silence? Did I do something to upset them and create what I perceive as distance, or are they just preoccupied and distracted?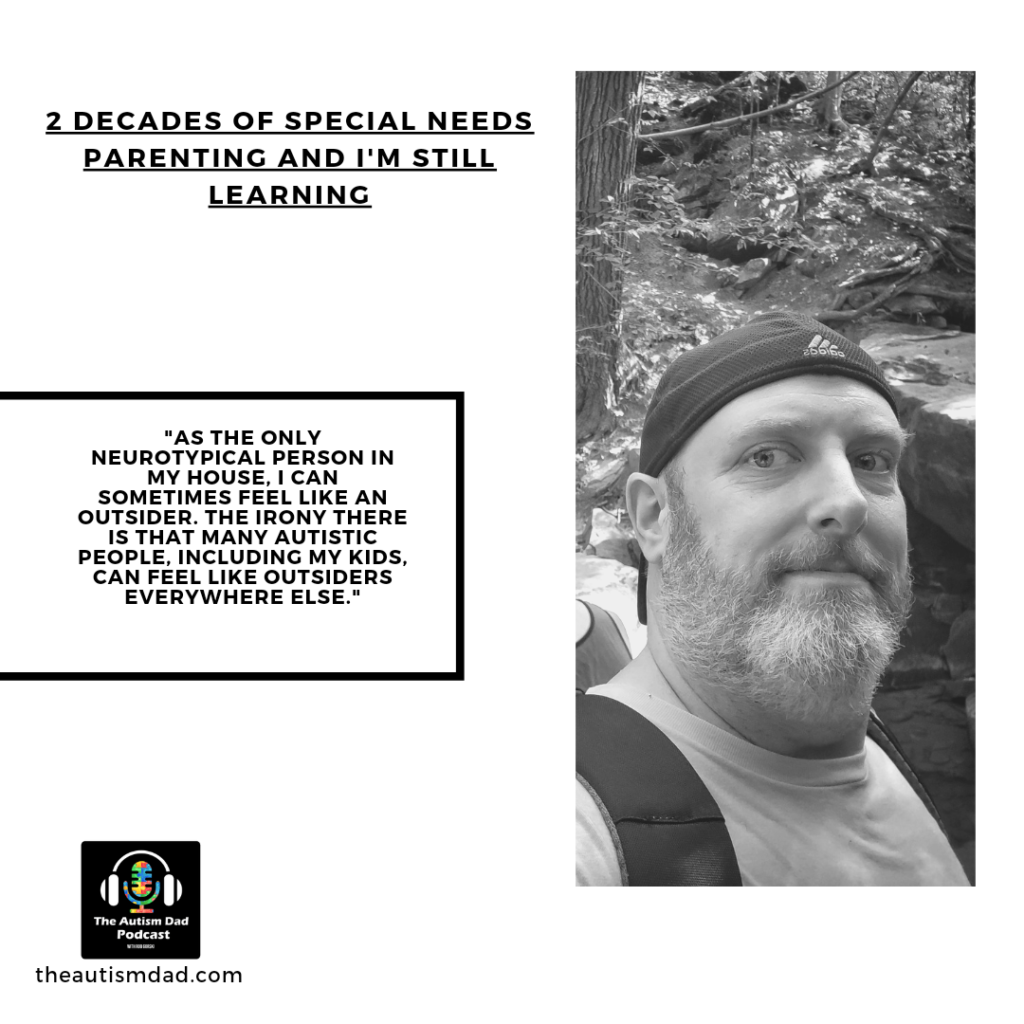 Not being able to navigate this well can make me very uncomfortable because I don't know what to do. Asking them can be something they find annoying because they have no idea they're sending off signals that are causing me discomfort or concern. This is another case where we experience the same thing but for different reasons and differing perspectives.
One of my kids is constantly asking me if I'm okay. It's a five minute drive home from school and it's not uncommon for him to ask me if I'm okay, half a dozen times before we even get home. I think there are a combination of things behind this behavior. There's definitely genuine concern. Another part of it is anxiety based, and maybe even a bit of compulsion. Still another piece is related to the fact that he cannot read my facial expressions and other nonverbal queues. He's literally told me the latter was a big part of it and it makes him worry about me.
We often find ourselves in a place where if I'm not overtly, outwardly, and obnoxiously happy, he worries that something is wrong.
I get it because I sometimes find myself in the same boat with the many neurodiverse people I'm lucky to have in my life. It's still relatively easy for me to find myself worrying because I interpret certain behavior to mean that somethings wrong, when in fact, nothings wrong at all. It can be exhausting because I can get all twisted up and stuck in my own head.
Thankfully, I don't struggle with this all that much anymore because I'm learning to compensate and better interrupt my loved ones.
Why bring this up, you ask?
That's a great question!
I bring this up because what I occasionally experience when trying to interpret the social and emotional queues of my neurodiverse loved ones, is something they deal with all the time. It's important that I not lose sight of that because it provides a certain perspective that so many of us lack. We don't lack it because we're assholes, unwilling or unable to step into another person's shoes. I mean, that may be true for some people but not everyone. It's something that really requires first hand experience to better understand and many people just don't have that opportunity.
Granted, my experience is not exactly the same as what my neurodiverse counterparts experience, but it's close enough to help me better understand and relate. It's close enough to provide me with insight as to why my son, for example, is constantly asking if I'm okay.
This is helpful because on the days when those words are constantly ringing in my ears, I maintain perspective, and just remind him that I'm okay. I understand what it's like to worry because I can't tell how someone I love is feeling. I know how that can create anxiety and it's not fun.
I want to share my personal insight in hopes of helping you better navigate situations like this. I wish I was able to provide more indepth knowledge but as I said in the very beginning, I've been a special needs dad for two decades and I'm still learning.