The house is pretty much ready for our new friends from Utah to spend the day filming in. I'll be so relieved when we get through this because as much as it's nice to have people over on occasion, it's incredibly stressful.
The house is in order, with only a few minor things to take care of in the morning.
It's a pretty good feeling to have accomplished all of this and it wouldn't have been nearly as possible without my Mom's help.  Thanks Mom.  ☺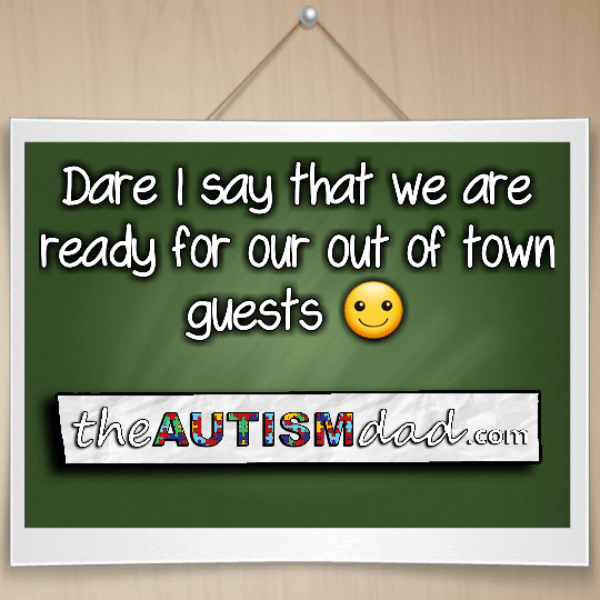 I'm really excited to have this happening today because it's great PR for The Autism Dad Blog and it will help to reach other Autism families in need of the life saving technologies that we provide via the Vivint Gives Back Project. 
Anyway, we received a surprise last night in the form of a phone call from my Dad. Both he and my Mom decided to head over to our house and tackle our out of control yard.
My parents, the boys and I spent some time cleaning up the yard, cutting through brush, mowing the lawn, picking up sticks, cleaning up debris from the major storm we had a few weeks ago and making things look much nicer.
This was amazing because I've been so overwhelmed by all that needed done in and around the yard.
Thank you Mom and Dad for all your time and help.
While we were outside working, Lizze took care of more things inside the house, to bring us even further along.
We all played our part today and because of that, we accomplished many things that we couldn't have otherwise.
I have a load of laundry to finish up before I call it a night and I'm listening very carefully for the washer to buzz because I want to go to sleep. We have to get up pretty early in the morning and be ready for our guests to arrive.
While I'll be hit or miss today as a result of all we have going on, I will catch you all up at the end of the day.