I wanted to talk to you folks for a few minutes and explain a few changes that you may have noticed already.
I've been officially sponsored for the very first time.  I so excited to share with you all that this blog has been sponsored by Vivint Gives Back. What does this mean?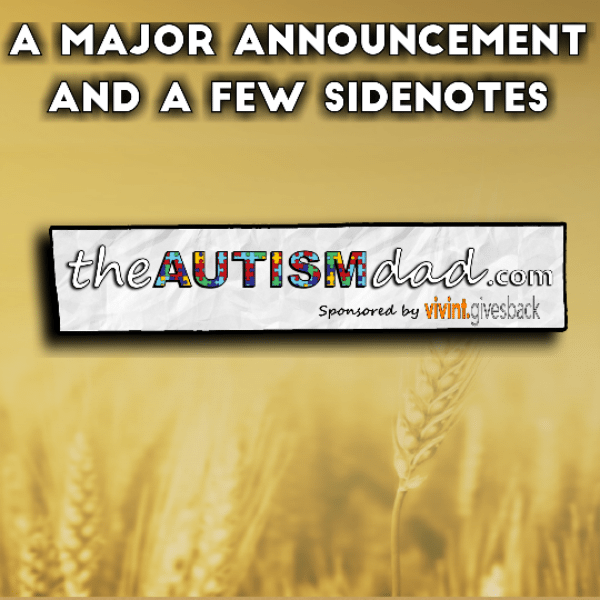 It's important to understand that this sponsorship is in regards to server fees only. Vivint Gives Back and The Autism Dad Blog are both on a similar path.  That path is one that's dedicated to helping the special needs community, especially those touched by Autism.
Vivint Gives Back will be helping with server fees and that means that I no longer have to stress out of pocket expense in regards to the hosting of The Autism Dad Blog or the My Autism Help Forums.
I'm the Brand Ambassador and liaison between Vivint Gives Back and the community.  We are working as a team to help the Autism community by providing the tools parents need to keep track of their children while in the house and preventing them from escaping unnoticed.

By sponsoring my blog, Vivint Gives Back is helping me to continue my efforts at raising awareness and providing comfort to those walking a similar path.
This is something that I'm exceedingly grateful for because it means that I no longer have to stress out if I'm unable to cover the fees on my own.
Another hugely positive aspect to this is that any and all monies generated from this site can go directly to supporting my family.  This is a really big thing for us because rather spending time trying to figure out how to cover the fees associated with running these sites, I can focus instead on what I do best.  ☺
This blog will contain ads/sponsored posts and other things that can help to monetize this site and allow me to better support my family.