It's been a really interesting day here in The Autism Dad household. By interesting I mean challenging, overwhelming, frustrating and heartbreaking, with a smidgen of awesome on the side.
The truth is that I was overwhelmed by my kids today, especially Gavin.
Elliott and Emmett would get along for a little while and then fight over what amounted to misunderstanding or not wanting to deviate from their set way of doing things.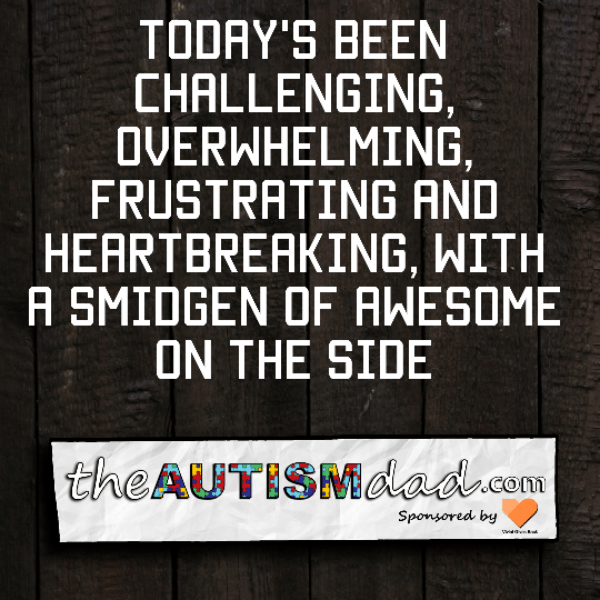 We had front row seats to several meltdown today and while front row seats are usually a good thing, when it comes to meltdowns, not so much. lol
The main story tonight revolves around Gavin once again.
Gavin's in a place where he's telling us everything that pops into his head. This is almost compulsory because I don't think he's doing this to drive me crazy but it's driving me crazy nonetheless.
This isn't the first time we've seen this.
Typically, this is a solid indication that he's boarded the manic train. I don't know what to call this stuff anymore because it's all sorta evolving or maybe devolving is a more accurate term.
Listening to someone tell you everything they're thinking can be overwhelming in any situation.
Listening to Gavin constantly verbalizing all the crazy shit that's going through his head is even more overwhelming because while it makes sense to him, I don't have a clue what he's talking about most of the time.
As a parent, this really sucks because I never want to shut any of my kids down when they want to speak to me. I always want them to feel like they can come to me about anything.
At the same time, there's only so much I can take before I want to shove pencils into my ears, just to create silence.