I've got a larger Christmas entry coming soon, so I'll save most of the Christmas related stuff for that. 😀
For now I wanted to talk about how everyone seems to be doing as the holiday excited sort of envelops us in all its overstimulating glory.
The short version of the story is that its been a very, very, very long day.

I picked the boys up from my parent's house around noon today. It was quite apparent that they were extremely anxious about Christmas. Frankly, any kid would have a higher level excitement as Christmas day approaches. With my kids however, regulation is something that doesn't come easy for them. They wear their excitement and anxiety on their sleeve for the whole world to experience with them. 😁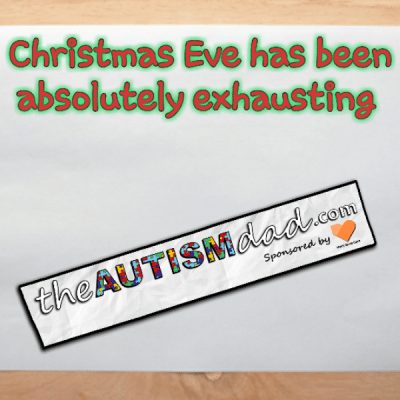 Gavin obsessively talked about Santa Claus for most of the day because he was very preoccupied with making sure we didn't forget to leave out milk and cookies. This year however, we baked cinnamon rolls for Santa and I'm pretty sure he's really excited to eat them.. 😉
Gavin was exhausting today but he went to bed and fell asleep without a problem.
Elliott has been so anxious that he's been making himself sick for the last two or three days. The poor kid is exhausted but having the most difficult time falling asleep.
While Emmett wasn't making himself sick, he was certainly on edge and struggling for a large part of the day. His frustration threshold was so low that he was always freaking out because he just couldn't cope. He struggled to fall asleep as well and it took forever for him to relax enough to close his eyes and drift off.
As far as Lizze is concerned, it's been a mixed bag.
I feel like progress is being made because she's actually been eating today without me having to gently nudge her. Believe it or not, that's progress and very encouraging.
This is a rough time of year in general for Lizze because of all the pivotal family members in her life who have passed away.
Being in a massive depressive episode makes that even harder for her..
As for myself, I'm doing pretty good. My days are spent taking care of people and while that's exhausting, it's absolutely worth it. My family is once again together for the holidays and that outweighs all of the effort that goes into it.